By
Phil
- 26 November 2019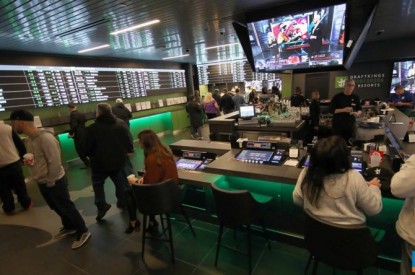 The New Hampshire Executive Council has voted to approve a contract between the New Hampshire Lottery and DraftKings, setting the stage for sports betting to launch in the Granite State.
"We moved fast to get this done, and the deal is a win for New Hampshire," said Governor Chris Sununu. "We are partnering with a world-class company to provide a first-rate customer service experience. With today's vote, everyone will now be able to bet on Tom Brady and the New England Patriots in time for this year's Super Bowl."
"Today's affirmative vote begins a partnership with DraftKings that will offer our players an exciting opportunity to participate in sports betting with a trusted partner," said Charlie McIntyre, executive director, New Hampshire Lottery. "The introduction of sports betting will broaden the appeal of the New Hampshire Lottery and engage new and existing customers, while generating millions of dollars in additional revenue to support education. We are working directly with DraftKings to implement a sports betting system that both engages players, while also ensuring all appropriate safeguards are in place. The New Hampshire Lottery and DraftKings expect to launch mobile sports betting this January."
DraftKings was selected through a competitive bidding process, offering the New Hampshire Lottery the best financial package, the most highly rated mobile sports betting app, and the fastest implementation timeline. Under the approved contract, the New Hampshire Lottery will receive 50-percent of gaming revenue from sports betting sales, maximising revenue for education in New Hampshire. In order to work in closer collaboration with the New Hampshire Lottery, DraftKings also plans to open an office in the state.
"We look forward to collaborating further with the New Hampshire Lottery to bring the DraftKings experience to sports fans in the Granite State," said Matt Kalish, Chief Revenue Officer and co-founder at DraftKings. "Our best-in-class mobile sportsbook and several retail locations throughout the state are sure to be a hit with all types of customers as legalised sports betting continues to expand across the country."
Governor Chris Sununu signed legislation in July 2019 authorising the New Hampshire Lottery to conduct sports betting, which will be allowed through as many as 10 physical sports book locations, along with mobile sports betting.
The sports betting legislation was written to provide individual communities with the option to put the question to voters as to whether to permit the operation of retail sportsbook locations within their communities. The cities of Berlin, Claremont, Franklin, Laconia, Manchester and Somersworth voted in favour of sports book locations during city elections earlier this fall. New Hampshire towns will be able to place the question on their Town Meeting warrants in spring 2020.
The sports betting legislation, which creates a Division of Sports Wagering within the New Hampshire Lottery to oversee sports betting, allows for mobile wagering and prohibits any wagering on New Hampshire college teams or any college games taking place in the Granite State. Players must be 18 or older to make wagers.