By
Phil
- 13 July 2018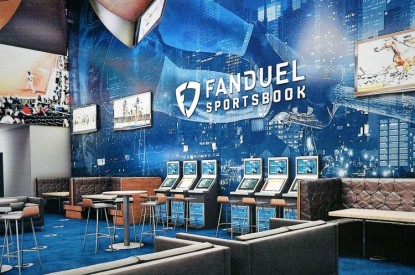 New Jersey's casinos generated $16.4m in sports bets during the first two weeks that sports betting was legal in the state.
That total came from just two casinos; Borgata and Ocean Resort, the latter of which was only open for two days during the period, and a racetrack; Monmouth Park, who reported a cumulative total of $3.5m in revenues from those bets.
A further $1m was bet on the outcome of baseball's World Series or NFL's Super Bowl, which won't be paid out for months. The new bets generated tax revenues of $300,000 for the first two weeks.
Monmouth Park generated the most sports betting revenue at $2.3m, the Borgata generated $986,831, whilst Ocean Resort, which only opened its doors on June 28 generated $192,671 in two days with its sports betting offering still in development. Monmouth Park generated $142,448 per day, Borgata tallied $61,677 per day, while Ocean Resort generated $64,224 per day.
The CEO of William Hill US, which runs the sports book at Monmouth Park, said: ""While it's still early, we're obviously off to a great start. We always knew there was a big appetite for legal sports betting during the years of litigation, and now it is being proven. We are proud to be creating new jobs in New Jersey and bringing excitement to our customers. We can't wait until football season."
The Monmouth Park Sports Book by William Hill opened on 14 June. The complex features a 15-window main sports book, and an integrated sports bar, with more than 40 HDTVs showing live sporting events and dynamic betting lines. The sports book is open seven days a week.
The William Hill Sports Book at the Ocean Resort casino opened on 28 June. The 7,500 square-foot sports book is located in the heart of Ocean's gaming floor. All of the features of the $6 million sports book area will be in place by the start of football season, highlighted by a state-of-the-art video wall technology for the viewing of sporting events and live odds.
The Borgata's President, Marcus Glover, added: "There's a lot of pent-up demand waiting for the NFL," he said.
The Meadowlands Racetrack, in East Rutherford, around six miles from New York City, will start taking sports bets on July 14 in a partnership with fantasy sports specialist FanDuel Group. FanDuel's new 5,310 square foot sports betting retail location is adjacent to MetLife Stadium and is the closest in proximity to New York City.
"The opening of our first sportsbook at the Meadowlands is reflective of our commitment to providing sports fans a best-in-class experience," said Matt King, CEO, FanDuel Group. "We're excited to partner with Jeff Gural and the team at Meadowlands Racing and Entertainment on what we believe will be the premier sports betting experience for fans in New Jersey, New York, and across the northeast region."
The FanDuel Sportsbook will feature 10 teller windows and 27 televisions and accommodate up to 490 people. By the start of the football season, the FanDuel Sportsbook will expand to include 15 tellers, 65 television screens, and a capacity of close to 650 people. Customers can watch the games and dine on incredible food in a state of the art lounge.
"Partnering with FanDuel Group and our proximity to New York City puts us in prime position to capitalize on the seemingly endless opportunities around sports betting," said Jeff Gural, Chairman & CEO of Meadowlands Racing and Entertainment. "Opening our doors on the eve of the biggest soccer game in the world is just the start. We look forward to enhancing the gameday experience for local fans, as well as visitors from around the world."
Atlantic City's Hard Rock casino is still awaiting approval to launch its sports betting lounge although it has confirmed it will be working with Bet365.
Dustin Gouker, lead sports betting analyst for PlayNJ.com, added: "It's exciting to see the first sports betting numbers out of New Jersey, but we have to remember it's still limited in where and how it is offered. The numbers will increase exponentially as more sportsbooks open, and as online betting kicks off. We could see the first legal online sportsbooks launch in New Jersey this month, with many others aiming to be live by football season."
"The initial numbers show bettors are turning up in droves to try out legal sports betting," Mr. Gouker added. "This also means that sports betting is motivating people to visit the state's tracks and casinos — a boon for their businesses."
Meanwhile, New Jersey's legal online gambling industry generated $22.7m in gross revenue in June, the 44th consecutive month that gross revenue has increased year-over-year. And with June's collection of $3.9min tax revenue, online casinos have now generated $150.8m for New Jersey since the industry was born in November 2013.
"Every sign is positive for the online gambling industry," said Steve Ruddock, online gambling analyst for PlayNJ.com. "$30min monthly revenue and $1bn in lifetime revenue are within reach. The online gambling industry remains a growing force in New Jersey."