By
Phil
- 23 March 2023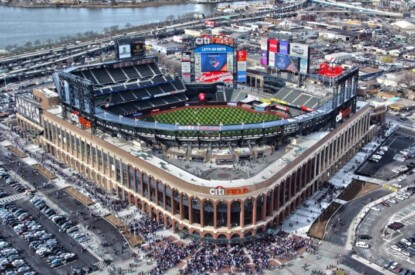 A New York legislator has introduced a bill to change the land use outside Citi Field, the home of the New York Mets, that would allow Mets owner Steve Cohen to bid for one of three casino licences up for grabs.
The bill, put forward by Assemblyman Jeffrion Aubry (D-Queens), reads: "The city of New York is authorized to discontinue the use as parkland and alienate through the entering of leases or other agreements with New Green Willets, LLC … for the purposes of developing, constructing, maintaining, operating, using, or occupying such lands with a gaming facility."
Cohen spokeswoman Maria Comella said: "The local community and Mets fans have told us emphatically that they want more from the 50 acres of asphalt around Citi Field. Cohen and his team are committed to delivering a vision with dedicated green space, year-round entertainment and good-paying local jobs. We are supportive of efforts to create a process that does this the right way and makes it possible to expand use of the area beyond just parking lots."
The Citi Field casino concept is one of at least nine such potential projects under consideration in New York City.