By
Phil
- 13 March 2023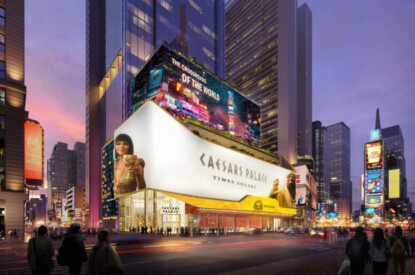 The New York State Latino Restaurant Bar & Lounge Association has confirmed its support for Caesars Palace Times Square, the proposed gaming and entertainment destination put forward by SL Green, Caesars Entertainment, and Roc Nation. 
The proposed project, planned for 1515 Broadway in the heart of Times Square, would bring millions in new revenue to area restaurants.
The NYSLRBLA represents Hispanic and minority businesses in the food and beverage industry. It is one of the largest business organizations of its kind with over 350 restaurant members to date, ranging from individual Latino businessmen/women to gourmet larger restaurants to lounges and bars across the tri-state area.
"Times Square is the right place for New York's next gaming destination, hands down," said Jeff Garcia, President of the NYSLRBLA. "It's great not only for the Times Square area but for the city as a whole. We believe the increased tourism is going to directly benefit small, minority-owned businesses across the five boroughs."
The NYSLRBLA is the latest industry group to join the Coalition for a Better Times Square, a group of businesses, labor unions, and community organizations across the city advocating for a new, state-of-the-art gaming facility in Times Square.
"The NYSLRBLA is among the most trusted and influential groups within New York City's food and beverage industry," SL Green, Caesars, and Roc Nation said in a joint statement. "The NYSLRBLA's support for a gaming destination in Times Square is a testament to the broad, city-wide impact of our proposal. A gaming destination in the heart of New York, above the city's largest transit center, means more customers and more opportunity for restaurants and bars across the city"
Economic forecasts indicate that a gaming and entertainment destination would attract over 7 million new visits to Times Square and generate $967m in annual area spending, providing a much-needed boost to hotels, theaters, restaurants, and businesses, bolstering retail and dining options. The proposal also includes a critical congestion mitigation, improved sanitation strategy and security improvement plan for the Times Square area.
SL Green, Caesars Entertainment and Roc Nation are collaborating on a partnership to redevelop 1515 Broadway as a premiere entertainment and gaming destination in the heart of Times Square. The proposed boutique facility would take up eight floors in the existing 54-story tower and include 250,000 square feet of gaming space alongside 950 hotel rooms and entertainment and restaurant space.