By
Phil
- 6 January 2023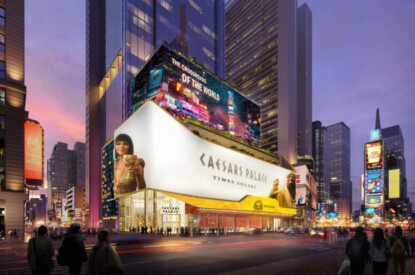 The winners of three coveted New York full scale casino licences will have to pay a licence fee of $500m within 30 days of the award of the license, although the New York Gaming Facility Board has highlighted operators could pay more, sparking a bidding war.
Existing casino operators in the state; Genting Malaysia and MGM Resorts are seen as favourites to win two of the full casino licenses, allowing them to upgrade their facilities to include table gaming, but there would be question marks on whether this would provide the state with the biggest number of new jobs. Tax on slot machines has been set at 25 per cent and table games at 10 per cent, according to rules laid out this week by the New York Gaming Facility Board.
The board will score the submissions most heavily according to the project's economic impact, which will account for 70 per cent of the points system, focusing on proving the 'highest number of jobs, maximizing State and Local revenues and creating a gaming facility of the highest caliber with a variety of quality amenities.
The board said: "Revenue from new gaming facilities is expected to generate substantial fiscal benefit to New York's public schools, local governments, and problem gambling treatment services. The jobs, created by these casinos must deliver livable wages to help families live, stay, and prosper in
New York. The Board unanimously determined that the minimum capital investment and license fee for
Applicants seeking to build a commercial casino is $500m each. By statute, a separate, appointed Community Advisory Committee (CAC) will review Applications. In addition, the successful completion of municipal zoning and land-use processes will ensure that only projects embraced by the community would be presented to the Board for consideration. Other important components of the Application may depend upon the understanding of the potential competitive landscape with other Applicants, which may only be gauged after these processes have been completed. Due to these timing nuances, the Board will not impose artificial deadlines in today's RFA issuance, other than the due date for the first round of questions (February 3, 2023) and the Return Date (30 Days from the Board's response to the second set of questions)."
It added: "Revenue from new gaming facilities is expected to generate substantial fiscal benefit to New York's public schools, local governments and problem gambling treatment services. The jobs created by these casinos must deliver livable wages to help families live, stay, and prosper in New York."
CBRE's Senior Analyst John DeCree believes the combined GGR of New York's three fully-fledged casinos could reach as much as US$4.8bn each year.
He said: "The NYS Gaming Facility Location Board is now expected to run a competitive process similar to the upstate casino selection on process from several years ago. In addition, the process will include input from a six-member advisory board of local officials to assess public support for proposed locations. Demonstrating evidence of local support and zoning approval is required for all applicants. This could be the most challenging part of the process, which is one of the reasons we believe Empire City and Resorts World NYC are front-runners for two of the three licenses.
Mr DeCree explained: "Ultimately, we believe the legislation and requirements give both Empire City and RWNYC a leg-up. First, the required local support will likely be easier to obtain given both properties' existing footprints in the region. Second, at least a portion of existing and previous capital investment could be considered in the total proposal. Third, both properties could be ready to launch table games nearly instantly, providing immediate jobs.
"Lastly, the consideration of revenue impact to existing VLTs (video lottery terminals) and the requirement for any casino license in those regions to maintain minimum [charitable] contributions presents a hurdle for any new development near Empire City or RWNYC. That said we still see one very compelling license opportunity up for grabs with a number of interested parties and potential sites throughout the New York City area."
The existing electronic casinos will face fierce competition from the biggest names in North American gaming though.
Caesars Entertainment has already outlined plans for a Caesars Palace Times Square in a partnership with SL Green Realty which would include a Broadway Theater for The Lion King.
"We believe that Times Square offers the best location for a new resort casino that can attract tourists and benefit local businesses. We're excited to pursue this license with Caesars and our many local partners. Our approach will ensure that under-represented communities benefit both in terms of employment and investment opportunities," said Marc Holliday, CEO of SL Green.
"A casino in Times Square is in keeping with existing uses in the area. Times Square is the center of the entertainment universe. Because we are proposing a renovation, once the license is issued, we can open quicker than other facilities, which require entirely new construction, changes in law, and will be disruptive to their local communities."
"Caesars is thrilled to partner with SL Green in connection with a five-star project that will meet and exceed New Yorkers' expectations for world-class entertainment, immediately enhancing New York City's tourism engine and elevating this one-of-a-kind global destination to new heights," said Tom Reeg, CEO of Caesars. "As one of the largest mobile sports books in New York, Caesars is passionate about New York itself. Caesars is also deeply invested in New York-based restaurant groups, chefs, and entertainers from across the Empire State."
Wynn Resorts is teaming with Related Companies with blueprints for a potential casino resort at Western Yards at Hudson Yards in New York.
"As New York City emerges from the pandemic, the Western Yards provides the ideal site for a resort that will reinvigorate our tourism economy and provide billions in tax revenues for the city and state," said Jeff T. Blau, CEO of Related Companies. "Combining Related's unparalleled ability to execute complex mixed-use developments with the best-in-class resort and gaming operator is the perfect pair and we're excited to pursue this together."
"Wynn Resorts has a long history of utilizing a compact, upscale casino floor to support the creation of spectacular resort experiences that appeal to an array of guests—travelers and locals alike," said Craig Billings, CEO of Wynn Resorts. "We look forward to engaging with the community, learning and understanding what we can do to help New York City to continue to thrive."
Hard Rock has already confirmed it has three potential locations where it could construct a casino in New York City, although Hard Rock chairperson Jim Allen would not yet identify the sites.
Hard Rock said it could spend up to $2bn on the casino project. It is already opening a new $400m to $500m hotel in Manhattan in April, and also runs a Hard Rock Cafe close to Times Square.
Mr. Allen said: "You have to have a footprint of real estate large enough to take advantage of the size of the market. We're extremely proud of our hotel on 48th Street, but its footprint is just not large enough for gaming."