By
Phil
- 6 June 2014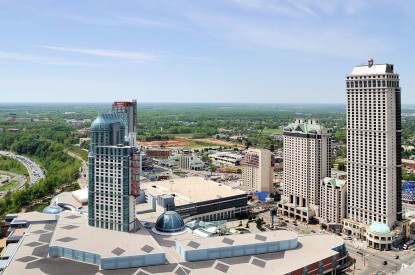 Fallsview Casino, the 24-hour casino resort, overlooking the mighty Niagara Falls, one of the top vistas in the world, celebrates a decade of great gaming and strong community partnerships in Niagara on June 10.
"This is an incredible milestone for our organization," said Art Frank, President of Fallsview Casino and Casino Niagara. "Despite the industry's ebbs and flows, we've remained a competitive player in our market, and as we reflect on our achievements and look forward to the next 10 years, we do so with tremendous gratitude to our patrons, employees and partners, who make us one of North America's premier entertainment and tourist attractions."
To mark its 10th anniversary in June, Fallsview Casino has been offering customers an assortment of special festivities from exciting gaming promotions and dining experiences to fun promotional giveaways. June's activity calendar is further bolstered by a stellar live entertainment lineup featuring the likes of international percussion sensation STOMP and Grammy-winning Gladys Knight.
When Fallsview Casino opened to the public on June 10, 2004, it signalled the arrival of Las Vegas-style entertainment inNiagara Falls. It represented the largest privately-financed construction project in Canada and a defining role in the tourism revitalization of the City and the Region from a seasonal stopover to a year-round destination.
Ten years later, Fallsview Casino still draws nearly eight million visitors a year with its 2.5 million square feet of shopping, dining, hospitality and entertainment. It remains one of the Region's largest employers and maintains a commitment to its legacy of responsible corporate citizenship and generous community support.
Looking back, Fallsview Casino has a lot to celebrate.
Since the legendary Paul Anka christened the Avalon stage with a pair of shows in June 2004, the casino has hosted nearly 2,500 performances spotlighting many of entertainment's greats such as Sophia Loren, Al Pacino, Ringo Starr, Carol Burnett,Keith Urban, Aretha Franklin, Reba, and more.
As a four-year recipient of Hamilton-Niagara's Top Employers award, Fallsview Casino has earned recognition and honours highlighting everything from operational excellence and creating a healthy workplace to philanthropy and community partnerships.
Readers of the Niagara Falls Review, Toronto Sun and Hamilton Spectator newspapers recently voted Fallsview Casino Resort "Best Live Entertainment Venue", "Ontario's Favourite Casino" and "Favourite Entertainment Destinations (Casino/Slots)", respectively.
"The Readers' Choice awards carry a lot of weight for us because it's awarded based on customer vote," said Frank. "The healthy workplace and philanthropy awards are equally as important because they reflect the kind of company we strive to be for our employees and for our community."
Synonymous with excitement and entertainment, Fallsview Casino continues to push the bar higher to shape impressive audience experiences, including venturing outside the realm of traditional advertising. With a smartphone in nearly everyone's pockets nowadays, Fallsview Casino, in partnership with Toronto's Blammo Worldwide, leveraged mobile technology to launch its first augmented reality billboard in 2013, which gave onlookers a unique and interactive visual experience.
Its ability to push creativity to produce distinctive and humorous marketing campaigns hasn't gone unnoticed in the gaming-entertainment industry, garnering yearly nods in "Best Outdoor Advertisement" and "Best Broadcast Advertisement – Television".
Together, the casinos boast a proud history of corporate philanthropy giving more than $15m to support an array of social service programs and providers within Niagara.
The economic impact of Fallsview Casino doesn't stop with charitable contributions. Many employees, executives and senior managers donate thousands of volunteer hours each year serving on boards of local tourism and non‐profit organizations while helping to raise awareness for local initiatives.