By
Phil
- 30 September 2019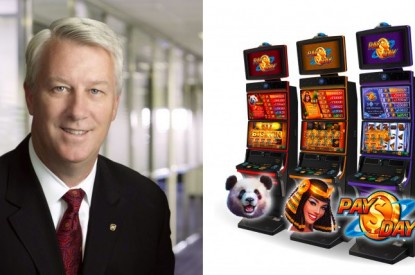 Novomatic Americas will present an extensive product portfolio at this year's G2E Las Vegas that showcases brand new games and game mixes, progressive jackpots, sports betting kiosks, system solutions and ETGs for the US.
Commercial, Tribal, and VGT operators will be able to experience the wide-ranging product suite available and understand how novomatic Americas' award-winning technology can boost their operations.
Rick Meitzler, President and CEO of Novomatic Americas, said: "We are focused on progressives and launching several new progressive product lines: Pay Day Progressives with the new Pay Day Plus, the Money Party Link including Fruity Fruity and Juicy Juicy and our Thunder Cash Link are all designed for a complete progressive entertainment experience. In terms of progressives, we will also showcase the new Samurai Beauty, and customers shouldn't miss this high-visibility presentation using the giant video wall and choreographed content. This package was a highlight at ICE in London, and we are bringing the US version here to present this product in a unique style."
Spearheaded by the fantastic success of Thunder Cash Link progressives, available on the Panthera Curve 1.43 and the V.I.P. Lounge Curve 1.43 which both feature the curved 43" 4K displays, various cabinet sizes for all-sized venues will showcase a selection of new games. Featuring among them are Dragon Hits™ as well as Prize of the Nile and Prized Panda – both part of the Pay Day Progressives family, from the Novomatic Americas Mount Prospect games studio.
The Thunder Cash Link jackpot will show progressive prowess with popular and diverse themes like Emperor's China, The Great Conqueror and Empress of the Pyramids. The Money Party Link will premiere Juicy Juicy and Fruity Fruity on the Panthera Curve 1.43, and Samurai Beauty with its beautiful presentation will command attention on the Novomatic stand.
The Panthera Curve 1.43, V.I.P. Lounge Curve 1.43, and V.I.P. Lounge 2.32 cabinets continue to bring top performance to North American gaming floors. These and other popular Novomatic cabinets, like the Panthera 2.27 will be also presented with a variety of multi-game editions for the international and Latin American markets.
The established Novo Line Novo Unity II platform will demonstrate the multiple variations of the popular ETG system showcasing the latest in side-betting features.
New mixes for the Illinois and Pennsylvania VGT markets will have a dedicated booth-within-a-booth location, and exciting products premiering in Puerto Rico will not disappoint. The scalable and modular myACP casino management system will be featured with new player recognition programs for the Illinois and Pennsylvania VGT markets including a new NOVO Rewards™ player recognition kiosk.
Capitalising on the incredible success of the Novomatic ActionBook self-service sports betting kiosk, the prominent placement in the Novomatic sports lounge will allow customers to experience the latest in customer sports betting capabilities.
Executives of Greentube will also be available to discuss new online games and capabilities.
"This year has been one of tremendous growth for us," stated Mr. Meitzler. "With the success of our Thunder Cash Link, our Novomatic ActionBook kiosk and so much more, 2019 has been a good year and this G2E is a celebration of that!"