By
Phil
- 28 October 2014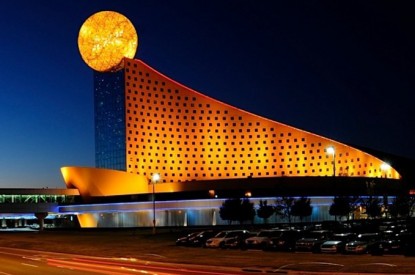 Konami Gaming's casino management system SYNKROS has been selected by Pearl River Resort in Choctaw, Mississippi, to replace their existing system.
This installation introduces a comprehensive selection of leading systems innovations to the company's two signature properties just north of Philadelphia, MS: Silver Star and Golden Moon.
"We are extremely excited to welcome Konami aboard," said Matthew Perkins, vice president of marketing at Pearl River Resort. "From a marketing standpoint, SYNKROS offers many exciting new capabilities. Our customers will now enjoy a wide variety of tournament features, bonuses and offers."
"As industry competitiveness continues to climb in regions across the nation, SYNKROS is allowing frontrunners like Pearl River to continue to claim a unique edge in the market," said Clark Warren, senior director, systems sales at Konami. "Specifically, the system-delivered bonusing and advanced level of targeting help empower world-class properties with the tools required to standout and zero-in on critical audiences that directly impact long-term profitability and market positioning."
Pearl River Resort has more than 2,700 slot machines at both locations combined. The resort's available table games include blackjack, poker, roulette, and mini-baccarat. In addition, the Pearl River Rewards program allows guests to earn exclusive offers and choose from a wide variety of benefits that span the resort's popularly-acclaimed dining, spa, retail, and recreational amenities.
Mr. Perkins explained, "The analytical capabilities included in SYNKROS will allow us to gain a more holistic view of our individual guests. We will have the ability to offer better customized rewards to individual customers."
"We're thrilled to be working alongside leadership at Pearl River, because they inherently understand how systems technology is leveraged to produce real-world conclusions on their patron experience in ways that encompass an entire spectrum of amenities—from the spa to the buffet to the casino, and everything in between," said Mr. Warren. "It will allow them the benefit of real-time data on evolving market demographics both locally and for the gaming industry as a whole."