By
Phil
- 4 September 2018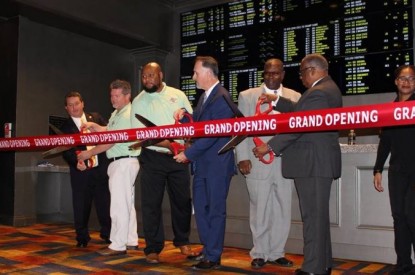 Pinnacle Entertainment has opened a full-service, dedicated sports wagering venue at Ameristar Casino Hotel Vicksburg in Mississippi.
The new sports wagering venue at Ameristar Vicksburg is called The End Zone, and represents the largest full-service sports wagering experience in central Mississippi.
Anthony Sanfilippo, Chief Executive Officer of Pinnacle Entertainment, commented: "The guests of Pinnacle Entertainment in the Southeastern United States are among the most passionate sports fans in the country. We are excited to now have the ability to offer sports wagering to our guests at Ameristar Vicksburg, and to enhance the excitement of viewing live sporting events by combining it with a gaming entertainment experience.
"Pinnacle Entertainment has long offered the guests of its Cactus Petes property in Jackpot, Nevada the ability to place sports wagers. The opening of The End Zone Sports Book at Ameristar Vicksburg represents the Company's first new venue of this type outside of Nevada, following the repeal of the federal ban on sports wagering in May 2018. We will continue to work to extend this important strategy to other properties throughout the Pinnacle Entertainment portfolio as allowed by the other states in which we operate," concluded Mr. Sanfilippo.
The End Zone is located on the first level of the casino at Ameristar Vicksburg, and features four service windows through which the team members of Ameristar Vicksburg personally facilitate the sports wagers of its guests. Additionally, The End Zone is a spectacular sports viewing space with a selection of sporting events on large-screen TVs, the area's largest high-definition television for featured sporting events, an expansive menu of draft beers, and a full-service 'tailgate' dining experience.