By
Phil
- 15 February 2016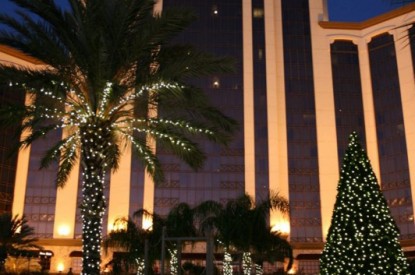 A noncash impairment charge and a rival casino both played their part in Pinnacle Entertainment reporting a fourth quarter net loss of $14.2m in 2015, compared to a profit of $14.2m the year before.
Revenue grew in the fourth quarter by less than one per cent to $558.4m
However, excluding Lake Charles, which marked the first anniversary of the opening of a new competitor in December 2015, net revenues increased by $17.3m or 3.8 per cent year over year.
2015 fourth quarter financial results benefited from the strong year over year Adjusted EBITDA performances of Baton Rouge, Belterra Park, River City and Kansas City.
The company achieved all-time annual records in Consolidated Net Revenues, Consolidated Adjusted EBITDA, and Consolidated Adjusted EBITDA margin in 2015 of $2.29bn, $617m, and 26.9 per cent, respectively.  Embedded in this 2015 performance are all-time annual Adjusted EBITDA records at Baton Rouge, River City, Council Bluffs, Black Hawk and Belterra Park.
Anthony Sanfilippo, Chief Executive Officer of Pinnacle Entertainment, said: "Overall, it was a another year of significant progress for our company and we are very well positioned for continued growth and further success as we continue to build broad-scaled capabilities in how we operate the company and service our guests.
"We opened a new hotel in New Orleans a year ago, and made significant progress ramping up the financial performance of other newly opened assets in our company, namely a new hotel and other non-gaming amenities at River City and Belterra Park," he added. "We made select investment in our existing asset portfolio in gaming and non-gaming amenities to enhance the guest experience, including the addition of a Stadium Sports Bar in East Chicago and dedicated high limit gaming areas in East Chicago and Council Bluffs.  We also commenced gaming floor renovations at all of our Missouri properties to refresh the spaces and expand our high limit and Asian gaming offerings, which will be completed in 2016.
One of the highlights of the year was L'Auberge Baton Rouge which achieved record fourth quarter and annual net revenue, Adjusted EBITDA and Adjusted EBITDA margin results.
Mr. Sanfilippo said: "We are pleased with the performance of this property and believe we have further opportunity to grow our revenue streams and profitability in Baton Rouge. River City had an outstanding year, as the property gained traction leveraging its full amenity set, which was recently expanded to include a hotel, event center and parking garage.  In 2015, the property better utilized these assets to drive incremental table gaming revenue, yield the property to service higher worth guests, and to develop new and profitable revenue streams such as entertainment and hotel convention business.  This revenue growth was accomplished while prudently managing its expense structure, with the property achieving record net revenues, Adjusted EBITDA and Adjusted EBITDA margin in 2015 as a result."
L'Auberge Lake Charles performed very well in 2015.  "New competition entered the market in December 2014, and by all measures, we had a terrific year in maintaining profitability as well as retaining our talented team members," Mr. Sanfilippo explained. "We are pleased with the net revenue, Adjusted EBITDA and profitability of the property, with the decline of full year 2015 net revenues and Adjusted EBITDA limited to eight per cent and 13 per cent, respectively.  "Belterra Park made significant progress ramping up its operations in the 2015 fourth quarter and is entering 2016 with significant momentum.  In the 2015 fourth quarter, the property grew its net revenues by 22 per cent.  This stronger revenue performance, along with refinements to its marketing reinvestment and streamlining of its operating expense structure, drove a year over year improvement in cash flow.  During the fourth quarter, the property had its best quarter since opening in 2014 in terms of Adjusted EBITDA and Adjusted EBITDA margin.  Market awareness of this quality asset is building, with the first quarter of 2016 off to a solid start.  We are confident Belterra Park will continue to register significant improvement in its financial performance in 2016."
Pinnacle said it has secured regulatory approvals in Mississippi and Iowa for a proposed leasing deal with Gaming and Leisure Properties. It has filed applications with five other state gaming agencies, including Nevada. If allowed, it wants to lease back and operate the 14 regional properties from GLPI once the deal is complete.