By
Phil
- 29 April 2014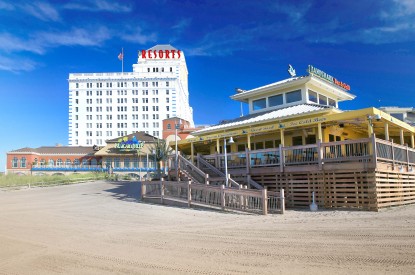 Resorts Casino Hotel celebrated a landmark year in 2013 with the completion of more than US$70m in renovations, creating a new atmosphere for the property and bringing destination brands to Atlantic City.
In 2013 Resorts Casino Hotel invested more than $70m throughout the entire casino to reposition the property for future success within a competitive Atlantic City market.
Morris Bailey, owner of Resorts Casino Hotel, said: "I firmly believe in the successful future of Resorts and Atlantic City, and the only way to continue to grow is to invest. 2013 was a pivotal year for us for reinvestment and I am encouraged by the positive widespread reactions to our improvements. The redevelopment of our property combined with our partnership with Mohegan Tribal Gaming Authority has repositioned us to be a highly competitive destination."
Projects included the all new Jimmy Buffett's Margaritaville entertainment complex featuring the Margaritaville Restaurant, LandShark Bar & Grill, 5 O'Clock Somewhere Casino Bar, Margaritaville Coffee Shop, two retail shops and new slot and table gaming areas. Margaritaville began construction in October 2012 and opened in May 2013. The redevelopment work also saw a completely renovated Boardwalk façade creating a more inviting entrance. The new casino floor reconfiguration included new carpet throughout the entire casino and new games alongside an all new high-limit slot area, Hollywood Hills.
Mark Giannantonio, President and CEO of Resorts Casino Hotel, added: "Going through a major renovation project like we did over the past 18 months is a difficult endeavour in the short term and has had a negative impact on our earnings during that time period, but we are already realizing improvements in many key areas of our business and guests are thrilled with our commitment to creating a fun, pleasurable and one-of-a-kind experience in Atlantic City. In addition to our physical improvements, we spent most of 2013 working to spread the good word through traditional advertising and major events such as the free Jimmy Buffett concert which was attended by over 50,000 people. Resorts team members continue to provide stellar customer service and emphasize the guest's experience to ensure a fun, exciting trip for every guest, every time."
As a result of substantial investment and customer service improvements throughout the property, there have been many positive indicators since the grand opening of Margaritaville on Memorial Day weekend, 2013. Most notably, Resorts casino revenue has outpaced industry performance every month.
Initial results from the first quarter of 2014 continue to provide encouragement that the investment at Resorts is paying off. Despite harrowing weather conditions during this period, property results are substantially better than prior year.
Encouraged by the initial outlook, Resorts will look to Margaritaville's one year anniversary and summer 2014 plans to continue to build on success' and develop new Atlantic City visitors as well as provide new entertainment opportunities for current visitors.