By
Phil
- 13 January 2019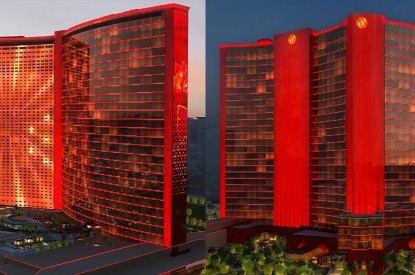 Resorts World Las Vegas has responded to the lawsuit filed in Las Vegas by Wynn Resorts with the Malaysian company's lawyers saying the property won't resemble Wynn Las Vegas and Encore when it is complete in late 2020.
Resorts World's owners Genting said Wynn's lawsuit 'suffers from a fatal flaw' as it is based on 'speculative extrapolation regarding the appearance' of the uncompleted casino.
"With nearly two years left to go before opening, (Resorts World Las Vegas) today consists of a bare, skeletal structure covered by a few floors of window panelling," Resorts World's attorneys claimed. "Upon completion, (Resorts World Las Vegas) will look dramatically different from Wynn's properties, dispelling any suggestion that a reasonable consumer could confuse the two resorts for each other."
"Given that Wynn was aware at least six months ago of (Resorts World Las Vegas) design renderings that arguably looked more similar to Wynn's properties than do the current renderings, its heavy-handed, holiday-timed filing appears more directed at shutting down construction of a business competitor than avoiding any hypothetical confusion of customers two years down the road."
The Resorts World filing shows artists impressions of what the resort will look like when completed with red panels adorning the bronze-coloured glass towers.
The initial Wynn lawsuit used existing photographs of the Wynn, Encore and Wynn Macau towers and the Resorts World construction site to show their similarity.
Lawyers for Wynn Resorts fired back: "Resorts World's newly created exterior renderings, dated 2019 and well after the filing of our complaint, are merely drawings which do not reflect the actual construction directly across the street from our resort," the company said in an emailed statement. "We will continue to pursue our legal claims and injunctive relief in this matter."
Resorts World highlighted that if it was forced to stop construction work, the company would be forced to immediately lay off 500 construction workers.
Project Manager William Richardson of W.A. Richardson Builders said in part of the court filing: "There are currently approximately 1,500 workers on-site and employed in connection with the RWLV project. If an injunction is granted and glass installation is stopped for months or longer, I anticipate that approximately one-third of those on-site workers — 500 — would be immediately dismissed, as they are working on elements of construction that would be affected by a glass stoppage."