By
Phil
- 17 May 2021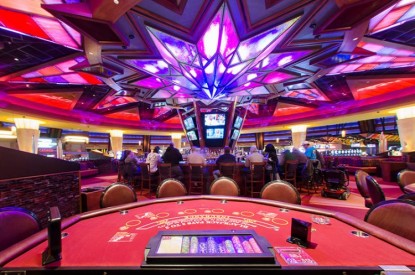 Mohegan Gaming & Entertainment saw an 11.5 per cent fall in revenue for the second quarter at its resorts, including Mohegan Sun in Uncasville, Connecticut, Mohegan Sun Pocono in Plains Township, Pennsylvania, the MGE Niagara Resorts in Niagara Falls, Canada and the Mohegan Sun Casino at Virgin Hotels Las Vegas in Nevada.
Income from operations came in at $44.9m compared to a loss from operations of $106.3m in the prior year period, due primarily to a $126.6m impairment charge at Mohegan Sun Pocono. Adjusted EBITDA was $80.7m vs. $51.3m in the prior year period, a 57.3 per cent increase.
The company's second quarter oresults were against easier comparisons due to company-wide COVID-19 related property closures in the comparable prior-year quarter. When compared to the second quarter of 2019, consolidated net revenues declined 9.4 per cent, while Adjusted EBITDA increased 20.1 per cent, driven by reductions in operating costs and expenses, including lower payroll costs and marketing expenses. These benefits were partially offset by the continued COVID-19 related closure of MGE Niagara Resorts and state-mandated social distancing protocols at the Company's other properties. Excluding the impact of the closures of MGE Niagara Resorts for the full quarter and Mohegan Sun Pocono for 3 days in January, and adjusting for table hold, weather and one time COVID-related expenses, the Adjusted EBITDA margin would have been 32.8 per cent for the quarter, up 773 basis points from 25.1% in the second quarter of 2019.
"The March quarter was important in the evolution of MGE, as we opened the Mohegan Sun Casino at Virgin Hotels Las Vegas – representing MGE's latest expansion and entry in the significant Las Vegas market," said Raymond Pineault, Interim Chief Executive Officer. "Continuing the trend of firsts, MGE, in partnership with the Governor of the State of Connecticut and the Mashantucket Pequot Tribe, reached an agreement to allow online gaming and retail and mobile sports betting, which when approved by the Connecticut Legislature, would expand MGE's online footprint while providing further diversification to our business. Additionally, late in the quarter, MGE's INSPIRE project in Incheon, South Korea received an important approval from South Korea's Ministry of Culture, Sports and Tourism, clearing the path to obtain financing for the project."
Carol Anderson, Chief Financial Officer of the company, added: "In the United States, our properties have continued to recover, as the rate of vaccinations increases and states continue to ease some COVID-related restrictions. At our flagship property Mohegan Sun, while revenues were below second quarter 2019 levels, which is the closest comparable due to property closures in the second quarter of 2020, Adjusted EBITDA was $70m, 17.9 per cent favorable to the second quarter of 2019, while EBITDA margin was up 1,212 bps over the same period. Outside of Connecticut, performance at ilani in Washington State continues to surpass expectations, while Mohegan Sun Pocono and Resorts are seeing positive sequential momentum. Finally, we look forward to reopening the MGE Niagara Resorts as soon as we are given approval from the government."