By
Phil
- 13 March 2015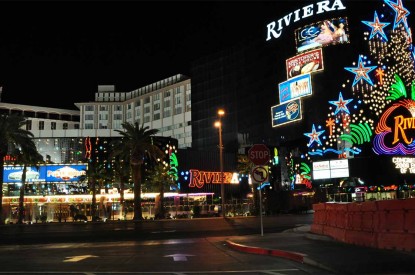 The Riviera Hotel and Casino on the Las Vegas Strip is to shut on May 4 just a fortnight after it celebrates its 60th anniversary.
In February, the Las Vegas Convention and Visitors Authority board of directors voted to buy the Riviera for $191m with the plan of tearing down the property to make way for the Las Vegas Convention Center.Located on the north end of Las Vegas Boulevard, the Riviera features more than 94,000 square feet of casino space.
"The Riv," as it is known, is one of the oldest casinos in Las Vegas, being the ninth property to be built on the Las Vegas Strip.
"With no shortage of sadness, we can confirm that our doors will close at noon on May 4, 2015," the casino stated. "We greatly appreciate the expressions of fondness and loyalty for 'The Riv' from our guests since ground first broke in 1954 and through the years. More importantly we want to acknowledge and applaud our associates who have worked to create enduring memories for all of our guests. This is what will be remembered long after the walls have come down. We look forward to making the coming weeks fun, exciting and memorable. For the Riviera is more than a building, it has always been about Classic Fun, Classic Value and Classic Vegas."
The Riviera filed for Chapter 11 bankruptcy in July 2010 for the second time, declaring debt of $275m.
Its latest operator Paragon Gaming said it was in discussion with several agencies in Nevada to help employees find a job.
Paragon CEO Scott Menk said: "We've had a huge response of support from local and regional gaming companies looking for experienced and well-seasoned people. We hope to be effective in helping everybody connect."