By
Phil
- 16 January 2023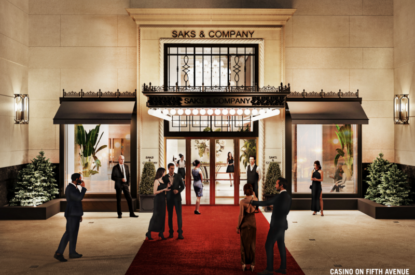 Saks Fifth Avenue, the iconic New York City department store, which opened its doors on September 15, 1924, has put forward a blueprint to convert the top three floors of its flagship store in Midtown Manhattan into a Monte Carlo-style casino.
The Hudson's Bay Company has confirmed it wants to transform the ninth, tenth and 11th floor of its luxury department store, into a 200,000 square feet casino with a separate red-carpet-lined entrance.
"It will be comparable to the aesthetics and luxury detailing of the Saks Fifth Avenue store," said Trenesa Danuser, a spokeswoman for Hudson's Bay.
Renderings of the proposed casino depict smartly dressed clientele sitting below chandeliers, reminiscent of stylish '60s spy films, and a moonlit soiree on the roof of the stone-clad, prewar building.
A source close to the company told Business Insider: "We are finalising our plans to move forward with attaining a gaming license. We have invested significant time and energy over the last year in building a strategic plan to most effectively and positively enhance our Saks Fifth Avenue experience with a luxury, high-end casino. The Saks Fifth Avenue flagship store is a staple of one of the most iconic streets in Manhattan. It is of particular importance to us that we continue to invest in the vibrancy and spirit of Fifth Avenue itself." 
The source described the top three floors of the department store as 'swing space' and believes the casino will 'attract visitors and tourists from around the world seeking that luxurious, Manhattan experience.'