By
Phil
- 2 May 2023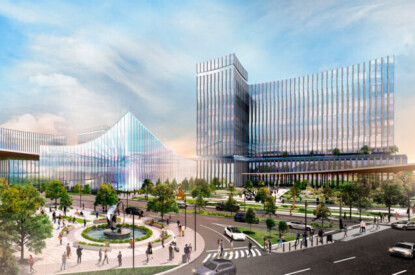 Las Vegas Sands has signed a deal with Nassau County for a 99-year lease for the Nassau Veterans Memorial Coliseum on Long Island, which it hopes to redevelop into a resort casino.
Sands will pay an upfront fee of $60m up front regardless of if it lands one of the three casino licences. Rent will start at $5m a month, doubling to $10m a month if Sands wins the right to develop a casino.
Sands Chairman and CEO Rob Goldstein signed the paperwork along with Nassau County executive Bruce Blakeman, marking the first step in the bid becoming a reality.
The deal will still need signing off with the 19-member Nassau County Legislature, which is likely to take place on May 22.
Mr. Blakeman said: "We are going to develop the Coliseum site and bring a world-class hotel and entertainment centre funded by a casino. We believe that will bring jobs, economic prosperity, tax relief, and improved safety to Nassau County."
Mr Goldstein added: "Our company's track-record of developing iconic, economy-changing developments is well-documented and we have every intention of bringing both our proven ability and a sizeable appetite to developing here on Long Island."
Trustees of Hofstra University has opposed the casino project coming to Long Island, highlighting that 40,000 students, ranging from children to graduate students, attend schools in the locality.
It said: "The Nassau Hub is an entirely inappropriate location for a casino. It is surrounded by educational institutions from preschool through graduate school, and a diversity of suburban communities that should not be exposed to the increased traffic congestion, crime, economic harm to local businesses, and other negative impacts that a casino development would likely bring.
"There are other locations in and around New York City to site a casino that are not in such proximity to multiple educational institutions where so many young people live and learn."