By
Phil
- 21 September 2017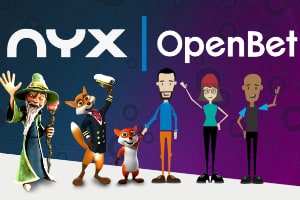 Scientific Games is buying NYX Gaming Group for approximately US$631m to create a global digital gaming and lottery powerhouse.
The deal brings a sports betting platform to Scientific Games' strong portfolio, meaning Scientific Games will now be perfectly positioned to capitalise on future regulatory developments in real-money wagering and sports betting by adding NYX's industry-leading OpenBet Sportsbook. NYX's digital Sportsbook can be seamlessly delivered throughout Scientific Games'global gaming and lottery networks in existing and future regulated U.S. and global markets.
NYX's worldwide channels, markets and customer base offer new growth opportunities to build on the significant momentum of Scientific Games' existing interactive gaming business.
NYX has significant stand-alone strategic momentum, an industry-leading suite of products, a growing global customer base and is the leading digital casino and account platform in North America. The acquisition will add significant new intellectual property, expertise and global reach to NYX, one of the world's leading digital gaming content and technology companies.
Kevin Sheehan, Scientific Games' President and Chief Executive Officer, said: "This important transaction creates a global gaming and lottery powerhouse. Scientific Games will be a stronger industry leader offering one of the broadest end-to-end portfolios of engaging content, innovative technologies and digital products and services across gaming and lottery. This strategic and financially compelling acquisition combines NYX's premier digital gaming and sports betting platforms and expansive distribution network to our own global, industry-leading content, technologies and digital products and services. NYX ideally positions us to capitalize on the growing online gaming and sports betting markets."
"Scientific Games' acquisition of NYX will provide immediate and compelling cash value for our shareholders, expand the products and solutions we are collectively able to offer our customers and accelerate the execution of our long-term strategic plan," said Matt Davey, Chief Executive Officer of NYX. "We will now have scale, content and product development capabilities, complementary global infrastructure and access to an expanded customer base. We believe Scientific Games is the ideal partner for NYX, and we look forward to working alongside the talented Scientific Games team."
It is expected that upon completion of the transaction, Matt Davey, currently Chief Executive Officer of NYX, will oversee a newly created Digital Gaming and Sports division at Scientific Games, working with the leadership of NYX and SG Interactive, including Leigh Nissim, Managing Director, B2B Interactive of Scientific Games. Matt Davey will report to Kevin Sheehan, Chief Executive Officer and President of Scientific Games.