By
Phil
- 11 June 2017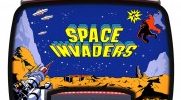 Scientific Games has launched its first slot machine with a skill-based bonus; Space Invaders, featured on the sleek and innovative Blade s32 cabinet.
Based on the popular classic arcade video game, which was originally released in 1978, Space Invaders is a six-reel, 60-line slot game that features a number of bonuses including free games and the Space Invaders Bonus. Channeling the original alien shooter game, the Space Invaders Bonus allows the player to control a laser cannon, moving it horizontally across the bottom of the screen while trying to shoot down rows of descending aliens, collecting credits, advancing levels and vying for one of the multi-level Jackpot Pools.
Players also have the option to bypass the base slot game and Buy a Bonus on demand, taking them directly to the Space Invaders Bonus where they play with higher credit win levels than the normal base game.
"Space Invaders is one of the true classic video arcade games and a childhood favourite for many who grew up in the era of video games. We are thrilled to bring this iconic game to casino slot game play," said Derik Mooberry, Group Chief Executive of Gaming for Scientific Games. "Our development team worked diligently to ensure that our first skill-based game featured authentic Space Invaders game play, complete with its familiar alien symbols and correlative music, and we are certain that players are going to be captivated with this compelling new game."
Space Invaders is currently available in New Jersey and will soon be available in various jurisdictions throughout North America.