By
Phil
- 26 January 2015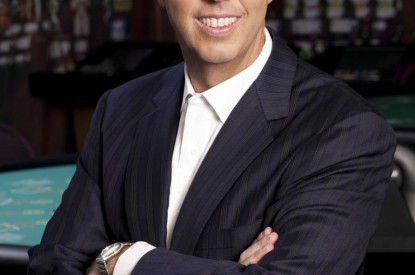 Scientific Games is relocating its global corporate headquarters and establishing its Gaming Division's primary US manufacturing operations at its existing facilities in Las Vegas, Nevada.
Effective immediately, Scientific Games' global headquarters is located at: 6650 South El Camino Road, Las Vegas, NV 89118.
Gavin Isaacs, President and Chief Executive Officer, said: "Selecting Las Vegas as our global headquarters is a natural step in the corporate evolution of Scientific Games. Las Vegas is a diverse, cosmopolitan city in business friendly Nevada where we have strong roots and an extensive and growing employee base. This move will allow us to stay closely connected to our worldwide base of gaming, lottery and interactive customers.
"Equally important to our continued operating success is maintaining the continuity of our major operating divisions. To that end, the company's Bally and Shuffle Master gaming development and support operations will continue to be based in Las Vegas, while our significant WMS game development, engineering and other gaming support operations, as well as our Interactive Division, will continue to be based at our Chicago Tech Campus. The operational headquarters of Scientific Games' Lottery Division will remain inAlpharetta, Georgia."
Reflecting the company's commitment to rapidly implement identified integration plans that are expected to drive increased efficiency and cost synergies, Scientific Games has begun to transition the WMS manufacturing operations from Waukegan, Illinois, to Las Vegas. To ensure customer needs are seamlessly maintained throughout the transition, production plans include enhancing the Company's Las Vegas operations before scaling back manufacturing operations at the Waukegan facility. Scientific Games expects all production to be transferred to the Las Vegas facilities by the summer of 2015 and anticipates closing the Waukegan facility before the end of 2015.
"It is great news for Nevada that Scientific Games, an industry leader in gaming, lottery and interactive entertainment and technology, has selected Las Vegas as its new global headquarters," stated Governor Brian Sandoval. "The relocation of the Company's manufacturing operations and corporate office to Las Vegas means hundreds of good-paying jobs for the people of Clark County and our state in the years to come. As we work together to grow and diversify the Nevada economy, I am appreciative that Gavin Isaacs and his executive team recognized the advantage of doing business in our great state."
Thomas Skancke, CEO of the Las Vegas Global Economic Alliance (LVGEA), said: "Scientific Games' bold move to establish global headquarters in business friendly Las Vegas will help LVGEA realise our goal to make the region a global business destination, while positioning Nevada as the gaming capital of the world. We look forward to working with the company as it continues to grow and thrive in Las Vegas."
The cost synergies arising from the manufacturing consolidation and the associated costs of transferring production and corporate functions to Las Vegas are included in the company's previously disclosed estimate of $235 million of expected annual cost synergies from the company's acquisition of Bally Technologies, Inc. by the end of 2016 and associated one-time costs to achieve the synergies of $80m.