By
Phil
- 31 October 2022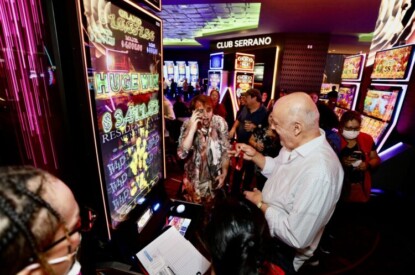 Yaamava' Resort & Casino at San Manuel, located just an hour east of Los Angeles, has launched the world premiere of Sega Sammy Creation's newest slot, Resident Evil: Vendetta, which will be exclusively available at the Highland, CA casino for 30 days.
Resident Evil: Vendetta is based on the worldwide popular Resident Evil game series and movie franchise. This new game and the innovative multi-stage feature, zombie feature and the chance to increase the win with the multiplying feature and the thrilling sounds and animation will have players sitting on the edge of their seats with anticipation for a big win.
"We are extremely honored to have the opportunity to partner with Yaamava' Resort & Casino at San Manuel for an exclusive World Premiere of the game, and to have the players at Yaamava' experience the thrilling, innovative game features," said Takashi Maekawa SVP of Sales & Business Development, Sega Sammy Creation.
Three units of the game were officially installed on Yaamava's casino second floor earlier this week. Gaming influencers from the YouTube Channels AkaFuji Slots and Kuri Slots were the first in the world to play this new game, with Akafuji hitting the FIRST handpay within minutes.
"With over 7,000 slots, Yaamava' is known for bringing the most popular, cutting-edge games to our guests," said Kenji Hall, Yaamava' Resort & Casino Chief Operating Office of Gaming said. "With this world premiere, we are bringing thrills and chills just in time for Halloween with this Resident Evil Vendetta game!"
On Sunday, 20 October invited guests will have the chance to play the new "Resident Evil: Vendetta" and meet Boris Kodjoe, star of "Resident Evil: Afterlife." Zombie actors will wander the casino floor, adding a little Halloween fun for guests to enjoy.