By
Lewis
- 23 July 2014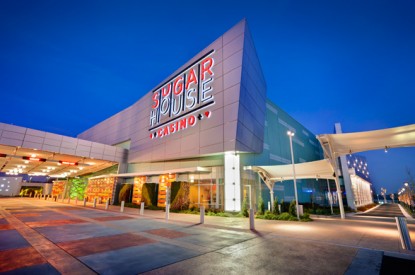 SugarHouse Casino will break ground today on the property's $164m expansion, which is set to open in 2015. The much-anticipated expansion means hundreds more jobs and even greater economic benefits for the casino's home town of Philadelphia. The ceremonial groundbreaking will be held today at 10 a.m. and will be followed by a VIP luncheon in The Refinery, the casino's waterfront restaurant.
Philadelphia's First Poker Room, New Restaurants and More Parking
The SugarHouse executive team, city officials and community leaders will be present as Philly's casino embarks on a new phase of construction that will bring more amenities to the Delaware Riverfront property—including a multi-purpose event space with waterfront views; new restaurants; a parking garage; a dedicated, 30-table poker room; and more.
And to get all that dirt moving, SugarHouse is enlisting the help of some new machinery to be added to the casino's existing fleet of branded vehicles. Joining the casino's Sugar Express trolleys and double-decker bus will be a SugarHouse-themed backhoe, which will roll onto the property especially for the groundbreaking.
The ceremony will take place on the north side of the existing North Delaware Avenue facility, where the expansion will be built.
"We are thrilled to be one step closer to the bigger and better SugarHouse Casino," Wendy Hamilton, general manager of SugarHouse Casino, said. "Our guests and team have been waiting for this moment, and we're excited to say that it's finally here. Groundbreaking is a huge milestone for us."
A Great Place to Work, a Proud Community Partner and a Strong Economic Engine
Once complete, the expansion will bring 500 new, permanent, full- and part-time jobs to Philadelphia, in addition to 1,600 construction jobs that will be created throughout the duration of the expansion. SugarHouse's current 1,100-member team has voted the casino a top place to work in Philly six separate times since its grand opening in September 2010.
The completed facility will also result in an annual contribution of $1m to the Penn Treaty Special Services District (PTSSD) to promote economic development in Fishtown and surrounding neighborhoods. Since opening, SugarHouse has generated more than $445m in state and local taxes, and has contributed more than $5 million to local groups and organisations, including serving as the title sponsor of the New Year's Eve Penn's Landing fireworks and New Year's Day Mummers Parade.
Interim Poker Room
In advance of the completion of the property-wide expansion, SugarHouse is opening an interim 24-table poker room to meet Philly's high demand for poker. It will be open 24/7 starting this fall and will remain in operation until the casino debuts its permanent poker room in 2015.
The poker room will be built on the south side of the property facing the Ben Franklin Bridge to ensure that it won't interrupt expansion construction. It will feature food and beverage service and state-of-the-art tables that will eventually be relocated to the permanent poker room next year.
The poker room itself is a $2.9m investment, and over the 13-month period will result in an estimated $1.8m in taxes to the City and Commonwealth. The opening of this new facility will create 100 new full- and part-time jobs across a variety of departments, with 80 of the positions being poker dealers. SugarHouse will recruit a mix of experienced and newly trained dealers to fill these spots and will offer a free poker dealer school to train current employees and applicants from PTSSD.