By
Phil
- 11 October 2019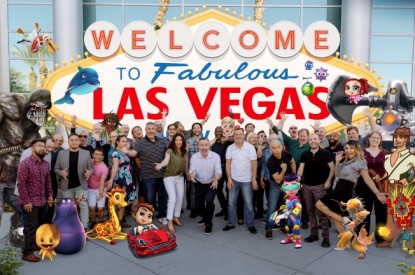 Synergy Blue, a creator of skill-influenced games and platforms for the casino market, will hold a press conference on the current urgency for skill-influenced video games in casinos at this year's G2E.
It will feature Nolan Bushnell, founder of Atari and often cited as the Father of the video game industry.
The company said: "With casinos feeling the pressure of revenue concerns among a rapidly changing demographic, Synergy Blue and Bushnell are coming together at G2E to explore how successful trends in the video and arcade industry can be implemented in casinos to create innovative experiences and attract new demographics. Games are everywhere, from the phone in your pocket, to trivia at the bar, to billion dollar professional stadiums. We're quickly becoming surrounded by new and exciting gaming experiences, which is driving innovation in entertainment worldwide. To attract players and remain relevant with younger generations, casino games need to be of the same quality and engagement level as the plethora of games around us. The time for skill-influenced games is now."
The company's robust HAWG (Hybrid, Arcade, Wager-based Gaming) platform will be on show, blending regulatory approved chance and skill-influenced gambling with the uninterrupted entertainment of arcade-style game play.
In August, just a few months after the Nevada Gaming Commission approved the company's manufacturing and distribution license, SynergyBlue relocated its HQ to Las Vegas. With a new Nevada license and a freshly renovated office, the company plans to hire locally and brings a positive economic footprint to the community, while the team looks forward to immersing themselves in the industry and harnessing the momentum around skill-influenced games.
Georg Washington, CEO of Synergy Blue said: "As the industry evolves, and skill-influenced games continue to gain traction, we found it necessary to be closer to our clients and the industry. We are very excited to be in Vegas with our Nevada license. We look forward to building strong relationships with our neighbours and becoming a beneficial part of the community."
After outgrowing their headquarters in Palm Desert, California, Synergy Blue renovated a new home office in Las Vegas. The company plans to expand their team locally to support the growing momentum surrounding skill-influenced games, as well as the progression of the company's products through certification with the Nevada Gaming Commission.
"As barriers to adoption of skill-influenced games continue to decrease, and more casinos add arcade-style gambling to their offering, Synergy Blue is focusing heavily on partner relationships," continued Washington. "No one knows their own players, property, and target demographic opportunities better than a casino's own operations and marketing team. While our team has extensive expertise in skill-influenced gambling, we recognize that it's the casino teams who are the experts of their own house. Our move to Vegas is another way of showing our dedication to establishing best practices and securing mutually beneficial relationships with both the casinos and their future patrons."
In the past year, Synergy Blue has strengthened their technology development, grown their game library, secured strategic partnerships, increased game placements, and secured their Nevada Gaming Certification. The company also conducted and published research on the emerging skill-influenced gambling industry, which shows how critical innovation and new solutions are for casinos