By
Phil
- 3 April 2019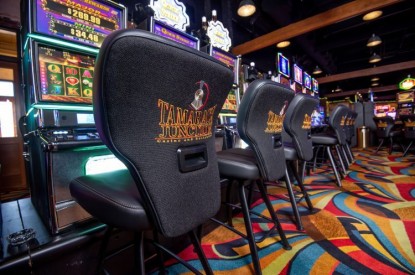 Long-time Gary Platt customer Tamarack Junction Casino & Restaurants has upgraded its entire casino floor to Gary Platt's patented Monaco chair (US Patent No. D829458).
Tamarack Casino has been a Gary Platt customer for more than 17 years. When Tamarack wanted to refresh its casino floor, they turned to Gary Platt to create a custom look for the Monaco that perfectly blended the chair's unsurpassed comfort with Tamarack Casino's unique brand.
Tamarack Junction's Operations Manager Kyle Sullivan said: "When we started thinking about updating our slot floor's chairs, Gary Platt was the only name that came to mind, and we couldn't be happier. Our chairs came out exactly the way we wanted, and our guest love them. Thank you, Gary Platt."
Gary Platt CEO Joe Esposito said: "The greatest compliment we can get is when a customer repeats – and even expands – their business with you. So, when a 17-year customer continues to come back and works with us as a design partner, that is extremely gratifying."
Gary Platt's Monaco chair is available in a wide range of customisable configurations for every part of the casino, including slots, tables, and sportsbook.