By
Phil
- 22 April 2022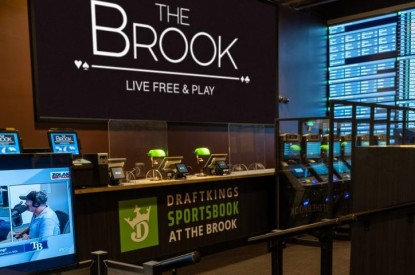 The Brook, America's largest charity casino located just over the Massachusetts-New Hampshire border, has announced that it has surpassed the $5m threshold for total amount of money raised for New Hampshire charities since opening in February 2019.
Located in New Hampshire, a state that contributes 35 per cent of all gaming revenue directly to local organizations, The Brook has donated funds to more than 75 charities on a rotating basis over the last three-plus years. During that same time span, Eureka Casino Resorts, The Brook's parent company, has completely remodeled the historic 75-acre property, which sits 40 miles from Boston and is an easy drive for most residents of Massachusetts and Maine.
Most recently, The Brook unveiled a new enlarged casino floor, new gaming machines, outside deck, ballroom and event space. In coming months, The Brook will continue to expand and add games, which will help boost the number of charities that the casino benefits to more than 100 and capture more charitable gaming dollars for those charities.
"We've invested millions to breathe new life into and totally reimagine the former Seabrook Park, now completely reinvented as The Brook," said Chief Executive Officer Andre Carrier, who grew up in Massachusetts and in the White Mountains of New Hampshire. "We've made meaningful and impactful partnerships with dozens of New Hampshire charities, working deliberately and diligently, not only to raise money, but to create opportunities to build awareness for their services and to call for volunteers."
Julie Baron, President and CEO of Make-A-Wish New Hampshire, said she will be "forever grateful" for the support The Brook has provided her organization and the many others that have benefited.
"The Brook's passion and enthusiasm to give back and support the children of Make-A-Wish New Hampshire has been deeply touching and impactful," Baron said. "Because of The Brook, children in New Hampshire can find joy, hope and power in one simple wish. Their overall support of the many charities they work with shows how committed they are to truly making a difference in our community."
Eureka Casino Resorts is America's only 100 per cent employee-owned resort casino company. Since acquiring Seabrook Park in 2019, the company has added a number of new amenities at The Brook. The 90,000-square-foot casino entertainment complex is now home to the popular, state-of-the-art DraftKings Sportsbook. It features movie theater-style chairs, sofas and tables, three cinema screens, a massive outdoor video wall and is the largest sports bar in New England, offering full service dining at over 300 tables.
In addition to simulcast racing seven days a week, The Brook offers blackjack, roulette, craps and an array of other specialty table games along with a large cash poker room. The Brook is also the only New Hampshire casino with Stadium Gaming technology, an interactive table game experience featuring live dealers and the ability to switch between multiple games using a touchscreen on individual player terminals.