By
Phil
- 8 October 2019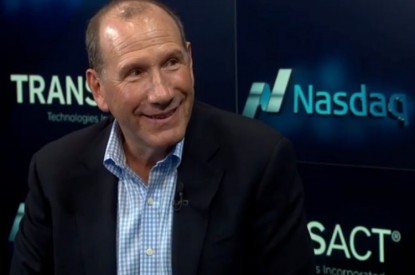 TransAct Technologies has formed a new partnership with Acres 4.0 to further elevate the capabilities of its Epicentral 4.0 promotion and bonusing print system set to debut at the 2019 Global Gaming Expo.
Designed to create access to instantaneous slot player data across casino floors, the new CyberMax system from Acres 4.0 will feed TransAct's industry-leading system with real-time player session data that will take the promotions and bonuses made possible by Epicentral 4.0 to a whole new level.
Bart C. Shuldman, Chairman and CEO of TransAct Technologies, said: "Since introducing Epicentral six years ago, our unique promotion and bonusing print system has delivered proven results for customers as our printed coupons and bonuses have helped improve player engagement, increase player loyalty and enhance slot floor performance. While Epicentral has always delivered strong performance for our customers since its first implementation, one hurdle we have faced is the varied time delay between players' real-time activity and the transmission of that player data from casino floor systems to Epicentral, data which is critical to creating results-focused targeted promotions and bonuses made possible by our system.
"With CyberMax, there is now a way to overcome the limitations of existing slot floor systems that cannot send detailed information on player events and often take up to 15 minutes to send this information to Epicentral. By working with the CyberMax solution, Epicentral will receive exponentially more player data and play events in real time without having to go through the casino's slot system. This new partnership with Acres 4.0, by which we will leverage their revolutionary new CyberMax system, will enable Epicentral to act on real-time information thereby making promotional and bonus programs even more effective for casino operators around the globe."
Noah Acres, Vice President of Marketing for Acres 4.0, added: "CyberMax gives casinos unprecedented abilities to enhance the player experience. With access to player and machine data that is exponentially more robust and delivered in real-time, casinos are able to identify and fulfil player needs like never before. We're thrilled to partner with TransAct and their Epicentral 4.0 solution, which using CyberMax, will be able to precisely deliver the right bonuses and promotions to the right player at the right time."
TransAct's new Epicentral 4.0, debuting at G2E 2019 for the first time, offers a significant leap forward with new and improved features designed to increase slot floor performance, all while providing operators with more powerful software that helps them optimize their deployment of the solution. Operators selecting Epicentral 4.0 will find a sleek, web-based user interface that creates an optimized user experience thanks to its clean aesthetic. Importantly, with the new version 4.0, Epicentral is now transformed into a SaaS-based software solution that dramatically shifts the capabilities of what the system can do for operators while creating for TransAct a whole new recurring revenue opportunity.