By
Phil
- 16 September 2014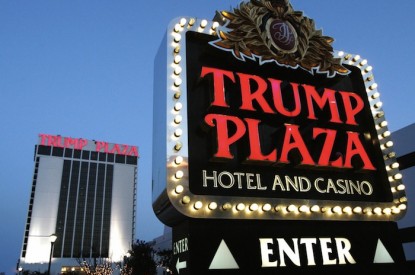 Trump Plaza Hotel & Casino shut up shop on Tuesday September 16 marking the fourth Atlantic City casino to close this year, meaning the gambling resort which began the year with 12 casinos now has only eight.
When it opened on May 14, 1984, Donald Trump described it as the finest building in Atlantic City but since then it has suffered due to the recession and the onset of greater casino competition. Around 1,000 wokres lost their jobs at Trump Plaza taking the total to 8,000 who have lost their jobs this year with another 3,000 to join them if Trump Plaza's parent company shuts the Trump Taj Mahal Casino resort in November as expected.
Towering 39 stories at the center of the world-famous Atlantic City Boardwalk, Trump Plaza boasted 8,600 sq. ft. casino featuring 57 tables and over 1,600 slots and a hotel with 906 rooms.
In recent times the illuminated letters spelling out the casino's name burned out with neon signs spelling out 'Trump Plaz Hotel & Cas' And 'U Laza' on the other side. Most of the restaurants on the first and third floors shut a few months ago.
Trump Plaza has generated revenues of $36.8m so far in 2014, representing a slump of 31.5 per cent from the same period last year. The nearby Borgata earns twice this amount in an average month.
Caesars Chief Executive Officer Gary Loveman believes that following this latest closure the worst could be over for Atlantic City.
"Atlantic City has taken its worst blows," he said. "I'm cautiously optimistic that a turn is coming. There will be a few more blows, but none of them will be as severe as what we've had thus far."