By
Phil
- 18 March 2014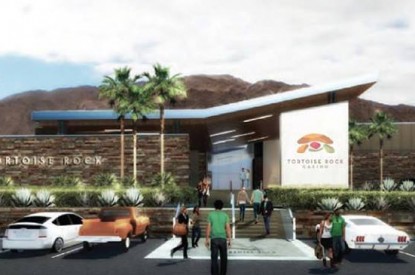 After 10 months of construction, the eagerly awaited Tortoise Rock Casino in Twentynine Palms, California will celebrate its grand opening with a private reception on March 31.
Tribal Chairman Darrell Mike of the Twenty-Nine Palms Band of Mission Indians which owns Tortoise Rock Casino, as well as Spotlight 29 Casino in nearby Coachella, said the opening would be important for many reasons. "Tortoise Rock Casino is not only a significant milestone for our Tribe, but we are also very happy to bring jobs and add excitement to entire high desert community," he said.
Tortoise Rock Casino is situated against a desert backdrop near the world-famous Joshua Tree National Park and United States Marine Corps Air Ground Combat Center. Design highlights include features that are both beautiful and eco-friendly, such as drought-tolerant landscaping with high-tech recycling and water-reclamation features.
This new 30,000 sq. ft. casino is sure to be the high desert's top entertainment destination, with 490 slot machines, seven table games including Blackjack, 3-Card Poker, and traditional Poker. Tortoise Rock Casino will also offer quick bites at an affordable price at Oasis Grille, along with live music, sports viewing events, and great drinks at Shelly's Lounge. Tortoise Rock Casino will be open to all guests 18 years and older. No one under the age of 18 is allowed in the Casino.
An estimated $1.4m went into construction wages alone, with local contractors and crews given preference. Tortoise Rock Casino will also employ more than 100 full and part-time employees.
Related Stories