By
Phil
- 29 May 2014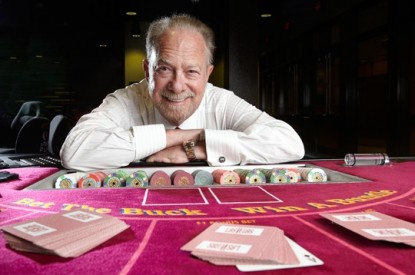 The first casino game patented by a student-¬inventor as part of an innovative new UNLV gaming course was sold this week to industry leader Konami Gaming.
UNLV Harrah Hotel College student Hien Nguyen developed the game last fall during the first semester of the Dr. Mark Yoseloff Gaming Innovation Program. Nguyen's creation is Domino Dragon, a Chinese domino video wagering game that includes a new method for determining slot machine winning outcomes using elements of Pai Gow tiles.
Tom Jingoli, Chief Compliance Officer and Senior Vice President at Konami Gaming, said: "Konami has a long-¬standing philanthropic relationship with UNLV, and it is exciting to witness the university encouraging its students to hone their talents and market their ideas to the gaming industry. In this case, Konami's interests were purely commercial and we are optimistic about the financial partnership we have forged around this innovative gaming concept."
Mr. Yoseloff, a gaming innovator and former CEO of SHFL Entertainment, teaches the course each year and connects students with established gaming leaders who serve as guest lecturers and mentors. Classes focus on gaming commercialization concepts and technology, the patent process and successful business strategies. Eleven more games developed by students are currently in the patent process and could be sold to gaming companies.
"The sale of Hien's game concept is testament to the quality of ideas being produced by our students,"said Yoseloff, who himself has more than 100 issued gaming patents. "That this sale took place less than nine months from the commencement of the Gaming Innovation Program is truly gratifying."
Nguyen is an undergraduate who will return to campus in the fall to work on developing more games. Her game also won first place and a prize of $3,500 in the course's gaming innovation competition, judged by industry executives and hotel college faculty.
"I am so excited to be able to sell my invention and can't wait until others are playing my game," Mr. Nguyen said."I never thought this would be a possibility for me and I'm so thankful for the support of Dr. Yoseloff and UNLV."
The successful course, which was open to 20 UNLV students last fall, will expand to include community members in fall 2014 as part of a proposed new Center for Gaming Innovation. The center is supported by The Knowledge Fund, created by the Nevada Legislature in 2011 and funded in 2013.
The Knowledge Fund promotes research in areas Nevada has targeted for economic growth including technology outreach programs. As many as 20 community members who want to get gaming ideas off the ground will now be able to take the course and learn the ins and outs of gaming innovation. Commercially viable ideas will be vetted and guided through the commercialization and legal processes.
The Yoseloff Family Charitable Foundation initially provided $250,000 in 2013 to launch the course and to assist students with the patent process. The John Kish Foundation provided cash prizes for the winning projects from the classroom competition.
Other student inventions from the gaming innovation course in the patent process include: 888 Baccarat: Invented by UNLV Hotel College graduate He Lin, who won second place and $2,000 in the gaming innovation competition. The game is a new, non-commission baccarat taking into account elements of Chinese culture.
Delayed Wager Increase in Video Gaming: Created by UNLV employee Gael Hancock and David Downes, a UNLV graduate of the Master in Hospitality Administration program. This is a feature applicable to any reel slot machine, which permits the player to change his or her wager after two or more of the reels have stopped spinning.
Color War: Created by UNLV Hotel College student Young Gi Lee, this is a new, easy-¬to-¬play specialty table game based on the color (red or black) of the cards dealt to the player.
Flip Card Blackjack: Created by UNLV Hotel College Student Aron Kock, this is a game in which a card is dealt face down under the side the wager when the player receives a blackjack. The winning odds for the side bet are determined by the value of that card.