By
Phil
- 15 December 2020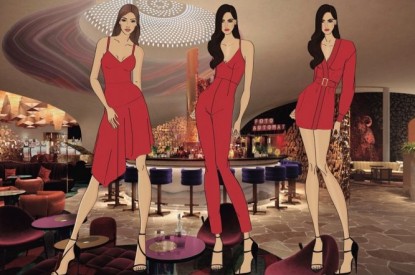 Virgin Hotels Las Vegas, part of Curio Collection by Hilton, the highly anticipated and re-conceptualised casino resort, has teamed up with Las Vegas-based Bell Uniform Design to create the property's inspired uniform designs which have been developed especially for Virgin Hotels Las Vegas and will be worn by all front-of-house teammates.
The collection was designed with a modern spin. Uniforms for the property will feature clean lines and chic silhouettes for men and women. Drawing on the lifestyle resort's desert modern feel and theme, the uniforms will highlight a neutral colour palette, with vibrant earth tone shades of khaki, chocolate, rust, burgundy, and olive. Fabric designs include multiple custom prints which are exclusive to Virgin Hotels Las Vegas. Unlike many other hospitality uniform programs, some property departments will offer team members the opportunity to select the design that best aligns with their body type and personality, ensuring that each teammate feels comfortable and confident while on the job.
Virgin Hotels Las Vegas and Bell Uniform Design wanted to create a collection that ensures all teammates are at ease at work so designs feature lightweight, relaxed and breathable fabrics allowing team members to move effortlessly, while still looking chic and stylish.
"Having the honour of designing the entire uniform program for this new property has been a dream," said Barbara Bell, owner of Bell Uniform Design. "My team and I have been working with Virgin Hotels for over two years to truly understand the voice and culture of the brand to best create uniforms for the property's diverse team, ensuring they are as comfortable as they are proud to work for such a renowned brand."
Attire for the food and beverage outlets operated by Virgin Hotels will complement each venue's distinctive atmosphere and poolside uniforms will combine nuances of Tulum and Greece while celebrating the desert playground, perfectly pairing with the resort's new pool and entertainment complex.
Throughout the property, uniforms will reflect modern fashion for both men and women with well-tailored pieces. To maintain the integrity of the program, team members will be offered layering pieces to be utilised during the winter months.
"When you look good, you feel good. Confidence with what you are wearing is very important. So, we made it a priority to design uniforms that did just that for our team members," explained Richard "Boz" Bosworth, President and CEO of JC Hospitality, owner of Virgin Hotels Las Vegas. "We are proud to partner with Bell Uniform Design to outfit the team in comfortable and stylish designs that are an extension of the property's overall story."
Bell Uniform Design is based in Las Vegas and owned by Barbara Bell, specialising in custom design, manufacturing and more. Over the past decade, Bell Uniform Design has been a class leader in the hospitality sector, working with the Cosmopolitan of Las Vegas, MGM Resorts, Venetian, Hakkasan Group and more.