By
Phil
- 28 March 2022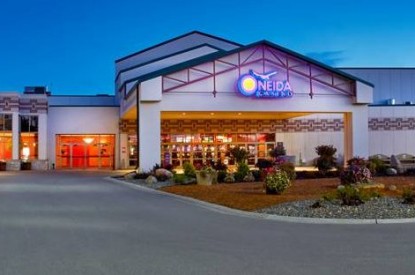 Working closely with Wisconsin's Oneida Casino has brought great benefits with IGT PlaySports bringing new sportsbook offers to life.
With March Madness sports betting in full swing, sportsbooks across the US are capturing the attention of sports fans in their states by intensifying their player acquisition strategies, ramping up their marketing, and keeping an eye on the competition.
In Wisconsin, the hustle is similar, but the competitive landscape is different. Badger is the specialty of the state Oneida Casino Currently as the first and only casino to offer legal sports betting.
"The introduction of sports betting to Oneida Casino immediately brought an extra burst of energy to our casino and made for an unforgettable football season," said Lewis Cornelius, Oneida Casino Gaming General Manager.
"Our guests had a blast the entire NFL season, the Super Bowl was unforgettable and we already feel the electric energy returning with March Madness."
Oneida Casino is not expected to be the sole wagering operator indefinitely. Many tribes are publicly pursuing sports betting ventures, but Oneida Casino believes that its "market first" position gives it a competitive advantage and provides strategic value.
"Being the first casino in Wisconsin to offer sports betting, Oneida Casino is cultivating great guest relations and gaining a front-line view of local betting trends and preferences; This ultimately enables us to further improve our offering and protect our leadership," Cornelius said.
"We quickly decided to partner IGT Playsports For our sports betting offering, knowing that they will be instrumental in achieving our speed-to-market goals. IGT has proven its ability to drive results, navigate complex regulatory situations, and provide world-class technology and services."
Cornelius further said that IGT's support extends beyond specific supplier-customer dynamics. He shared that the IGT President of Sports Betting Joe Ashero Recently visited Oneida Casino Sportsbook where they provide guidance and perspective on the day-to-day aspects of sportsbook operations, everything from risk management to potential menu items.
"Oneida Casino created something really special for sports fans in Wisconsin," said Asher. "It is clear that they are committed to maximizing this remarkable player acquisition opportunity and providing excitement to sports fanatics across the state. With Oneida Casino's recently launched mobile betting app, gameday will never be the same in the Badger State.
Although the property is off to an amazing start, the savvy operator is far from complacent. "We have big plans for the Oneida Casino sportsbook," Cornelius said. "Yes, we have meaningful momentum, but it is still early days in our partnership with IGT.
"We will continue to expand, refine and evolve our offering to ensure that we stay ahead of the pack, harness the passion of football fans and remain the leading sports betting provider in the state."