By
Phil
- 20 September 2022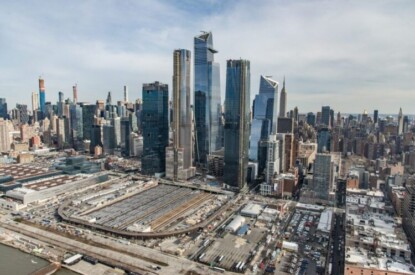 Related Companies and Wynn Resorts have announced a partnership to pursue a downstate casino license on the Western Yards at Hudson Yards in New York.
The plan for a resort, entertainment and gaming destination along the Hudson River will deliver thousands of permanent and construction jobs and billions in direct and indirect tax revenue to the state and city. The New York State budget passed earlier this year provided for three downstate gaming licenses.
The Western Yards is ideally located directly next to Javits Center—which has recently completed a $1.5 billion expansion and is one of the busiest convention centers in the United States hosting the world's leading conventions, trade shows and special events. Together with the Javits Center, a world-class resort on the Western Yards would create the country's preeminent convention and entertainment district.
Located along the High Line's northernmost portion, Hudson Yards is walking distance to all of the region's major public transportation, including the 7-Train line, Penn Station (accessible to the LIRR, A/C/E, 1/2/3 Train lines), Moynihan Train Hall and the Hudson River Ferry.
"As New York City emerges from the pandemic, the Western Yards provides the ideal site for a resort that will reinvigorate our tourism economy and provide billions in tax revenues for the city and state," said Jeff T. Blau, CEO of Related Companies. "Combining Related's unparalleled ability to execute complex mixed-use developments with the best-in-class resort and gaming operator is the perfect pair and we're excited to pursue this together."
"Wynn Resorts has a long history of utilizing a compact, upscale casino floor to support the creation of spectacular resort experiences that appeal to an array of guests—travelers and locals alike," said Craig Billings, CEO of Wynn Resorts. "We look forward to engaging with the community, learning and understanding what we can do to help New York City to continue to thrive."
Developed by Related Companies and Oxford Properties Group, Hudson Yards is the center of New York City's rapidly evolving West Side and home to diverse shops and culinary experiences, offices for leaders in industry, public art, acres of open gardens and groves and dynamic hub to New Yorkers, tourists and visitors to the Javits Center.