By
Phil
- 22 November 2022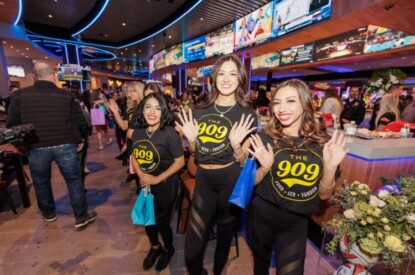 Yaamava' Resort & Casino at San Manuel celebrated the grand opening of its newest venue, The 909 Food Hall, a destination dubbed as the place for "food, beer and fandom".
The grand opening took place on Thursday, November 17. The food hall pays homage to the region by naming it after the well-known area code of the Inland Empire. Sports fans will find a hub of excitement among 78 seats for bar top gaming – more than any other sports hub in the world. Yaamava' partnered with LUCI System, LLC. (formally known as D3, INC), a global leader in state-of-the-art visual displays, to develop a stunning 20k LED archway, a 50' wide by 12' tall gameday spectacular screen and the capability to showcase content on over 150 screens, providing fans a 360-degree viewing experience unlike any other in California.
San Manuel Band of Mission Indians' tribal citizens, Yaamava' team members and sports partners including the Santa Anita Park Bugler; Luc Robitaille from the LA Kings; and Austin Barnes, catcher for the Los Angeles Dodgers, celebrated the grand opening with first looks, tastings, entertainment and more.
San Manuel Band of Mission Indians Chairwoman Lynn Valbuena is excited about the new space that welcomes sports fans and foodies alike.
"We are proud to continue to expand our resort and casino to provide a fun and safe entertainment space for a variety of entertainment needs," said Valbuena. "Our guests can attend a concert, visit the spa and now cheer on their favorite team in a state-of-the art venue right here in their hometown."
Peter Arceo, Yaamava' Resort & Casino's General Manager, credits the Tribe for its vision and the Yaamava' team for bringing that vision to life. "Game-changing experiences like The 909 are only made possible by the vision of the Tribe and the dedication of our team members," said Arceo. "The 909 will be the premier place to watch sports in California by providing a world-class 360-degree sports viewing experience combined with best-in-class food and service."
"We are grateful to the Tribe for allowing us to bring this new best-in-class experience to life," he added. "Our team has worked tirelessly to create the most fun and exciting space for sports fans and we know The 909 will not disappoint."