By
Phil
- 9 December 2019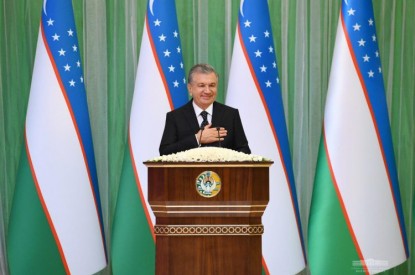 Uzbekistan will allow sports betting from 2021as it looks to bring in extra finances to develop sports, especially football.
President Shavkat Mirziyoyev signed a presidential decree published on December 6. The decree highlights a range of goals to develop football, including making it attractive both for fans and investors, opening sports schools for children, and introducing Video Assistant Referee in national league games.
The new laws will allow for land-based bookmakers and online gaming. The document also approved a framework for the development of Uzbek football until 2030.
Former FIFA referee Ravshan Irmatov has been elected the vice-president of the Uzbekistan Football Association (UFA) to replace Umid Akhmadjonov who resigned from his post.
"I think that we have done a great job for the development of Uzbek football, the fruits of our work will take to reveal themselves," Mr. Akhmadjonov said.
A law in 2007 prohibited all types of gambling such as totalisators, internet gaming, slot machines and casinos. The government said gambling did not meet the spirit of the Uzbek people, their traditions or way of life and
stimulated the growth of crime.
Prior to the ban gambling existed but licensing was extremely difficult and costs high whilst operators needed an authorised capital of at least UZS200m (US$24,500) and had to prove a level of higher education.
When the ban arrived most wealthy Uzbek players put up with a complicated border crossing into the small village of Saryagash in Kazakhstan which at the time offered small casinos, whilst others travelled to the north of Uzbekistan to take part in illegal dog and cock fights and Russian lotto (bingo).
Sports betting was also prohibited although cock fighting remains a popular pastime and underground fights are often held despite the risk of being caught and fined or imprisoned. Slots were forced out of the market although apparently there was one casino still openly operating in Tashkent until around 2013.
Source: G3 Uzbekistan market report https://g3newswire.com/wp-content/uploads/2019/03/G3Feb19Uzbekistan.pdf
Caption: President Shavkat Mirziyoyev