By
Phil
- 22 September 2014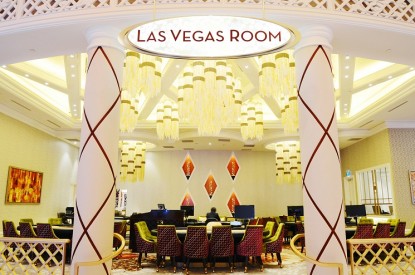 Asian Coast Development, the owner of The Grand Ho Tram Strip, has announced a US$50m funding commitment from its majority shareholder, Harbinger Capital.
Harbinger Capital Principal Philip Falcone said: "We remain as excited about the Ho Tram Project today as we were when we made our initial investment in 2007. The Grand Ho Tram Strip resort and casino facilities and The Bluffs golf course designed by Greg Norman Golf Course Design have both received rave reviews. We are also extremely excited about the future development potential of our project. We are encouraged by the Vietnamese government's progress on establishing a robust regulatory framework that will also provide a road map for the establishment of locals gaming in Vietnam."
This US$50m announcement is the second new investment in the Ho Tram Project in the past two months, following a US$20 million investment by NewCity Capital in July 2014. Harbinger is the majority owner of Asian Coast Development Ltd along with minority owners Pinnacle Entertainment and NewCity Capital.
Asian Coast Development Ltd.'s Board of Directors further announced the appointment of Mr. Stephen Shoemaker as Chairman of the company's Board of Directors as well as its President and Chief Executive Officer. Mr. Shoemaker had previously served as ACDL's President and Chief Financial Officer since 2008. With over 30 years of financial and operating experience in the hospitality and telecommunications industry, Shoemaker has an extensive background in developing strategy as well as overseeing financial operations and fund raising activities.
"Stephen was part of the founding team of the Ho Tram Project, and someone with whom we have worked closely with as far back as when the Ho Tram Strip was an undeveloped beach front. He has been a dedicated leader and an exceptional contributor to the project, and it is an honor to be announcing his new role and responsibilities today," Mr. Falcone continued.
"It's an extremely exciting time to be assuming this position," said Mr. Shoemaker. "The Grand Ho Tram Strip is quickly establishing itself as Vietnam's premier destination resort. We are looking forward to the late October Grand Opening of our Greg Norman designed eighteen hole golf course and club house – The Bluffs. We fully expect The Bluffs to quickly become one of the premier golf courses in Asia and one of the top 100 golf courses in the world." The Bluffs has truly unique geographic characteristics, with Greg Norman stating "this is one of only two pieces of land of this quality and character that I have ever worked with, the other being Doonbeg in the South of Ireland."
The Grand Opening of the Bluffs will be a three day gala event from October 17 to 20, attended by the legendary former world number one golfer and golf course designer Greg Norman. Shoemaker added: "I am extremely excited about the opportunity to continue working with Harbinger Capital and NewCity Capital to further develop the Ho Tram Strip and deliver the vision of creating a truly unique beach side destination resort that will be renowned not only in Asia but globally as well. We are very focused on the next development phases of the Ho Tram Strip. In the near future we will be unveiling additional details on these plans as we continue to deliver on creating a unique destination resort unlike anything Vietnam has seen before."
These announcements are all set against a backdrop in which Vietnam is re-evaluating its position on allowing Vietnamese nationals to begin prized gaming, as the Vietnamese government is presently drafting a decree which could include entry into integrated resorts and casinos within the country, possibly including The Grand Ho Tram Strip.
The first phase of its development – The Grand Ho Tram Strip – opened its doors in 2013 and includes a 541 room five-star hotel, a world-class entertainment facility, restaurants, high-tech meeting space, an exclusive VIP area, a championship golf course, as well as a variety of beach-front recreation activities. The Ho Tram Strip is one of the region's largest integrated resort projects with major future development phases including an additional 559 rooms and further leisure amenities that will complete The Grand Ho Tram Strip.