By
Phil
- 7 March 2013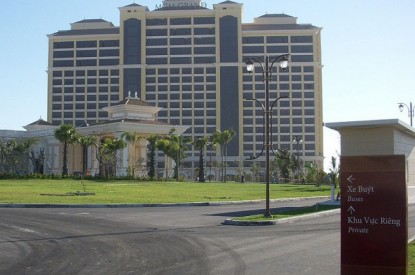 MGM Resorts has pulled out of its planned project on the Ho Tram Strip, Vietnam's first large-scale integrated resort.
Project owners Asian Coast Development confirmed MGM Resorts would no longer manage the project but didn't give any reason for the group's withdrawal. It is now evaluating a 'suitable new and exciting brand' for its first resort.
Chief Executive Lloyd Nathan said: "We thank MGM for its assistance in the hiring and training of our 2,000-strong team of Vietnamese hospitality professionals. We are delighted that we have completed the construction of the first phase of our first resort. It includes 541 five star rooms and suites, nine world-class restaurants, gaming facilities, convention and meeting space, luxury retail, bars, an ultra-lounge, a spa, three swimming pools, beach facilities, and other leisure amenities. ACDL is also currently constructing Tower 2 of the first resort which will add an additional 559 five star rooms and suites. In addition, it is constructing an 18-hole Greg Norman designed championship golf course."
ACDL's principal shareholders reaffirmed their long term commitment to the project, with Harbinger Capital Founder and Principal Philip Falcone saying: "Harbinger Capital was among the founding investors in ACDL, and remains as committed as ever to the Ho Tram Strip.  We believe the Ho Tram Strip is set to become the premier integrated resort destination in the region."
The project in Ho Tram, two hours' drive from Ho Chi Minh City, fell into trouble last year when the other operator signed up to develop there; Pinnacle Entertainment, said it might lose its $100m investment due to licensing and funding problems. Pinnacle is in a slightly different position than MGM as it opted to buy 26 per cent of ACDL in May 2011.
Pinnacle Entertainment Chief Executive Officer Anthony Sanfilippo confirmed Pinnacle's commitment to the project following MGM's departure, saying: "ACDL has built a truly remarkable property just two hours from Ho Chi Minh City and we look forward both to its opening and to the implementation of ACDL's vision for Vietnam's tourism industry."
Everything had appeared fine in mid-January when MGM helped complete a customer simulation. Nr. Nathan said back then: "Vietnam's first integrated resort, the MGM Grand Ho Tram Beach, was honoured to welcome 600 friends and family over a three day period to preview its luxury facilities. Pending final regulatory approvals for all of the property's offerings, the MGM Grand Ho Tram Beach is ready to open its doors.  We continue to work closely with the Government of Vietnam to ensure an expeditious opening."
MGM Grand Ho Tram Beach President and Chief Operating Officer, John Shigley, added in January: "We could not be happier with the success of our simulation weekend. This was all done as an exercise in the final training of our 2,113-strong MGM team that is energized and excited about our opening.  With over 600 people testing out our service and amenities, we have gathered invaluable feedback, and are exceptionally confident that we are ready-to-go. We are looking forward to welcoming our guests to the property as soon as possible."