By
Lewis
- 17 November 2020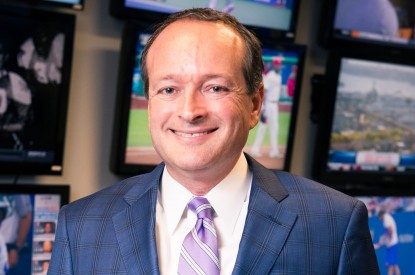 Prior to kicking off Betting on Sports America – Digital on December 1, G3 interviews Joe Asher, CEO of William Hill US.
Whilst total net revenue for the William Hill Group fell nine per cent in the third quarter, the operator's US operations recorded a ten per cent rise, including a 55 per cent increase in gaming sportsbook amounts wagered and more than double its previous gaming net revenue.
Ahead of a vote by shareholders on Caesars Entertainment's proposed €3.51bn acquisition of the business on 17 November, Joe discusses the company's rapid expansion into new states and the operator's permanent in-arena sports book location in Washington D.C. William Hill US' CEO explains the importance of having a footprint on the Las Vegas Strip following the acquisition of CG Technology and the potential impact a Biden Justice Department could have for ongoing legislation concerning the Wire Act in New Hampshire.
14 and counting
In partnership with Caesars Entertainment, William Hill US opened a full-service sports book at Harrah's Philadelphia ("which is actually located in Chester – my mother-in-law is from Chester so I never fail to mention Chester when I can," adds Joe). The opening marks William Hill's 14th state where it operates sports books, with more than 160 locations nationwide.
The William Hill Sports Book at Harrah's Philadelphia offers six ticket windows, 16 self-service betting kiosks and an expanded wagering menu that features in-play betting. Within the sports book space, Harrah's Philadelphia will continue to operate "The Book," a premier sports book lounge that includes stadium lounge seats, high-top tables, custom bar seating, and over 45 large screen TVs to watch game-day action.
Joe comments: "I grew up in Delaware, which is adjacent to Pennsylvania, so I think I have a pretty good feel for the market and know that Harrah's Philadelphia is a very good location. It is just off Interstate 95, so we are looking forward to operations there and participating in the mobile market."
Despite being inhibited by a difficult tax rate, Pennsylvania is a market with great potential. Total revenue for September amounted to $284.2m, with igaming revenue rising from $4.1m in September 2019 to $57.0m this year. Joe has three reasons why he believed Pennsylvania was always going to prove a good market:
i) It is a very populous area;
ii) There is a real sports culture in the area that has existed for decades. Pennsylvania has a rich history surrounding sports with legendary franchises such as the Eagles, Steelers, Flyers, Phillies and Penguins;
iii) The weather – places that have cold winters and the possibility for bad weather, such as parts of the north east and central states, keeps people inside watching and betting on television sports.
Wolverine State
In September, William Hill US and Grand Traverse Resort & Casinos officially opened their first Michigan sports books at Turtle Creek Casino & Hotel and a satellite location at Leelanau Sands Casino. The long-term partnership with the Grand Traverse Band of Ottawa and Chippewa Indians makes William Hill Grand Traverse's exclusive partner for sports books, along with mobile sports betting and iCasino gaming, pending regulatory approvals. The opening ceremony on September 23 included a ribbon-cutting with National Indian Gaming Association Chairman Ernest L. Stevens, Jr., followed by a ceremonial first bet placed by NBA All-Star Rick Mahorn.
"Much of what I said about Pennsylvania could be said for Michigan except the team names would be different and throw in the fact they have a much bigger college football and basketball scene with the University of Michigan, and Michigan State, as well as a more friendly tax regime," commented Joe.
"We're making good preparations to be ready to launch a mobile product in the state when it is permitted. Like Pennsylvania and New Jersey, it is both sports and casino – the latter's numbers are very strong and this presents a big opportunity for operators."
Open seven days a week, the Onyx Sports Book features two ticket windows and two kiosks, adjacent to the table games and slot machines on the casino floor. The sports book also offers 20 high-definition televisions, complimentary games, food and beverages, and an outdoor patio. The satellite location at Leelanau Sands Casino includes two kiosks for sports betting.
On launching the sports books, Michael Schrader, CEO of Grand Traverse Resort & Casinos, said: "We want to provide the best destination for sports betting in the state, and with William Hill as our partner, that's a bet we're happy to take. When Michigan regulations are permitted, we will be able to offer the best in online gaming and betting as well. This is truly a win-win for Northern Michigan."
Going full-time
Following the successful launch of its pop-up sports book at Capital One Arena in July, William Hill has unveiled a first look into the permanent sports book location that is expected to open in early 2021. In partnership with Monumental Sports & Entertainment, the William Hill Sports Book offers a first-of-its-kind sports fan experience inside a professional sports complex.
The renderings showcase the multi-level entertainment space that will feature a full-service sports book with 12 ticket windows and 10 self-service kiosks, two VIP areas and one large private dining/event space. The entertainment space will feature 1,500 square feet of custom LED that will wrap the entire facility and a jumbotron on the second level, a replica of what is located inside the Capital One Arena. Its design elements pay homage the history of sports and the local professional teams, including baseball stitching incorporated into the staircase railing, vintage lockers featured in the main bar, local sports memorabilia found throughout the space and sketches of local arenas printed on the ceiling.
Having interviewed Joe in the March issue of G3 about the Monumental agreement and the pop-up sportsbook, we asked what the rationale is for going permanent during a global pandemic.
"The plan was always to build out a really nice bar-restaurant sportsbook inside the space previously occupied by a restaurant called The Green Turtle. Frankly, it would have been open by now but for the slowdown in construction. The betting volumes at our pop-up sportsbook has surpassed everybody's expectations.
"Numbers have been strong – on the weekends there is a line out the door and down the street, albeit some of the line could be attributed to physical distancing. We have 14 kiosks people can bet on and seven windows open with no shortage of staff. The area has been demoed – I walked the space a few weeks ago and the renderings which we released publicly show how good looking the facility will be.
"We made some last-minute modifications to add betting kiosks and windows downstairs in response to the demand. We are really excited about it and have got to say thanks to the entire Monumental team who have been fantastic to work with. We feel really good about it and hopefully we will be able to get it over the line in early 2021 factoring in potential construction delays with bad weather. It is going to be really terrific."
The Capital One Arena is sat atop one of the biggest metro stations in the country, Gallery Place, and is equidistant between the White House and the Capital. Despite its prime estate location, how do you attract customers beyond game days when the venue is lacking 20,000 fans attending the live sport? Joe believes the fact it is in-arena says something about how sports betting has developed in the last couple of years.
"Five years ago, it would be unimaginable for a sportsbook inside one of the prominent sports arenas in the country. Our view is that if you build a compelling place with quality food and reasonable prices, we should be able to get a good crowd in there both on game days and through those who work or live nearby.
"Importantly for our business, on game days if the Capitals or Wizards are playing, post-match, the bar and restaurant will still be open as the West Coast games will just be getting started. I live in Las Vegas and the West Coast games are just starting as the East Coast games are finishing.
"There will be games to bet on – whether it's the Dodgers, Sharks, Lakers, or Clippers. Of course, our venues will do particularly well when events are going on in the building, but we are also focused on the times when nothing is happening. It is a great place for folks to gather to watch and bet on sports."
Digital diversification
Recent months have seen William Hill launch mobile sports betting in Illinois, Colorado, and West Virginia, adding to existing online offerings in Nevada, New Jersey and Iowa. In Q3, 72 per cent of William Hill US' handle was through mobile channels. G3 asks William US' CEO where is next for the operator's app and website.
"Next is probably Michigan when that goes online. Progression thereafter? One would expect Tennessee and Virginia. We want to launch a mobile product in DC, but this is a little more complex as the mobile offering has to be limited to a two or three block radius of the Capital One Arena under local regulations. The digital team is really hard at work. Amongst the key things for us have been the deal with CBS Sports and, more recently, the Caesars-ESPN deal. This has given us a good pool of potential customers that we can try to solicit and convert into customers."
The multi-year deal between Caesars Entertainment and ESPN was announced shortly after William Hill became the exclusive sports betting partner for Caesars following the merger with Eldorado Resorts. The co-exclusive agreement signed by the operator's recent partner means that link integrations to William Hill's sports betting apps, geo-targeted to legalised sports betting states, will appear on ESPN's websites and the ESPN Fantasy app. Caesars Sportsbook by William Hill will also become a sponsor of ESPN's Fantasy products.
William Hill's partnership with CBS Sports has seen product integrations across the latter's digital platforms, including odds attribution, new free-to-play games, fantasy game enhancements, interactive betting markets within scoreboards and editorial. Significantly, William Hill has exclusive rights to promote its brand across CBS Sports' broad range of digital platforms, including through CBS Sports Fantasy, one of the largest fantasy platforms in the world.
"Ultimately, we have to continue to enhance our product offering," explains Joe. "Over time, I think the product becomes more important in the US space and we have a big focus on expanding it. We have made the decision to try to control as much of our technology as possible because we think over time that is a real competitive benefit. Obviously, it comes at great cost, but we are big believers that having control over technology is going to win. Those are among the things the folks at our digital business are thinking about these days."
Las Vegas Strip
At the beginning of September, William Hill US announced the acquisition of CG Technology (formerly Cantor Gaming), meaning the operator now operates four additional sports books and expanded its footprint on the Las Vegas Strip. William Hill branded sports books are now open at The Venetian Resort, The Palazzo Resort, The Cosmopolitan, and Silverton. New offerings include self-service kiosks, an expanded wagering menu featuring LIVE InPlay Wagering on the app and over the counter, and rewards club offers.
Given William Hill already operates well over 100 race and sports books in Nevada, how significant is the acquisition of CG Technology in further solidifying its dominant position in Nevada?
"It's interesting as we had the leading market share even before the Eldorado-Caesars merger that enabled us to operate all Caesars sportsbooks on the Las Vegas Strip – including Caesars Palace, Flamingo and Bally's. Planet Hollywood has also just reopened alongside The LINQ and Harrah's. Alongside these properties, we now have the Venetian and Cosmopolitan on the Strip. Crucially, whilst we have a big market share in the state, we didn't have much of a presence on the Las Vegas Strip.
"Our locations were typically off-Strip or downtown in smaller properties, as well as outside Las Vegas in places like Reno and Carson City. The purpose of the Caesars and Cantor deal was to really expand our presence on the Las Vegas Strip. It has long been a very competitive market with quality operators but for us to finally get a presence on the Strip in such landmark properties as Caesars Palace, the Venetian and Cosmopolitan is very exciting for us. All of this growth leads to more opportunities.
"It is a challenge to balance maintaining and expanding our footprint in Nevada as well as entering new markets. All operators have these challenges, but we just have to do the best we can and try to make the right decisions around resource allocation and prioritising our focus."
The Wire Act – Trump or Biden?
Whilst May 14, 2018 remains the most important date in the history of American sports betting, how significant will November 3, 2020 be for the industry? Nearly two and a half years on from the overturning of the Professional and Amateur Sports Protection Act, the Wire Act has become gaming's new threat.
Despite the New Hampshire Lottery Commission winning a lawsuit in a lower federal court against the U.S. Department of Justice last year, the DOJ filed an ongoing appeal arguing that its enforcement of the Wire Act will only apply to sports betting. Joe, himself a former attorney with Skadden, Arps, Slate, Meagher & Flom, offers his thoughts on the upcoming Presidential election's potential impact on the federal landscape of betting.
"Hopefully we will get a definitive result in the election – all Americans are ready for this election season to be over. In terms of what changes if one candidate wins or another, the obvious thing that comes to mind is whether a Biden Justice Department would continue to pursue the current trajectory on the Wire Act.
"In the Obama administration, the Justice Department issued a memorandum that said that the Wire Act applies only to sports betting and not to other forms of online gaming, one that was effectively overruled by the Trump administration. There is the potential to go back to the prior opinion on the Wire Act and end the litigation going on in the First Circuit from New Hampshire. Beyond that, I wouldn't expect there to be a lot of changes."
In an interview uniquely devoid of its mention, at least in name if not consequence, G3 wraps up by asking Joe whether Covid-19's economic impact will expedite the push for further gambling legislation.
"It's a subject of much talk within the industry and the press. One would think that there is some expedition of legislation, but it may not be as dramatic as some people wish it would be because the size of the economic calamity in many states is so great that the revenue from sports betting and online casino, while certainly helpful, won't go anywhere near what's needed to solve the problem. Covid is probably helpful from a legislation perspective, but I wouldn't want to be taking the view that it's going to radically change things very quickly in many of the major states. However, it is tough to predict."