By
Phil
- 5 August 2013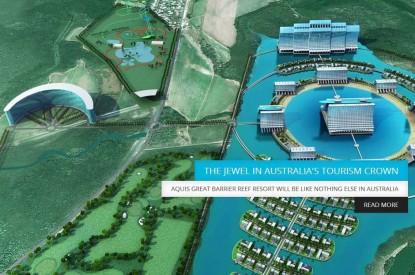 Chinese tycoon Tony Fung's attempts to develop a US$ 3.75bn casino and resort project in Cairns, close to Australia's Great Barrier Reef in Queensland, has hurdled its first set of approvals.
The proposal, to be located 13km north of Cairns and to be called Aquis Resort, would market itself to Chinese tourists and has pitched itself as being bigger than James Packer's Crown casino in Melbourne. It wants to operate 750 tables and 1,500 slots at a resort that, if approved, would include nine hotels with 3,750 rooms, one of the world's largest aquariums, a 25,000-seat sports stadium, 1,200 apartments and 135 villas, high-end retail shopping, theatres, a 13-hectare reef lagoon, 18-hole golf course, a convention and exhibition.
Cairns Regional Council has confirmed that, as advised by the Office of the Coordinator-General, Department of State Development, Infrastructure and Planning, the proposed Aquis Resort has been accepted as a Coordinated Project.
The council stated: "A draft Terms of Reference will now be prepared by the State in the coming weeks outlining the requirements for an Environmental Impact Statement. The draft Terms of Reference will then go through a public notification process. Once an Environmental Impact Statement has been prepared it will also be made available for the public comment. Following this process, the State will determine whether a future development application can be approved and if so, what conditions will need to be imposed on a development approval."
Mr. Fung, a billionaire son of one of the founders of Hong Kong conglomerate Sun Hung Kai & Co., said it would 'give Queensland an opportunity to fend off its southern and regional competitors for the increasingly important Chinese tourism market."
He said: "Based upon my business exposure to Asian markets via my family's involvement in the Hong Kong/China finance and property markets, I have seen and observed, with great interest, the rapid and exponential growth of Macau. It cannot be disputed that Macau's growth has been driven by a new breed of substantial integrated resort. The model is being rapidly adopted and accepted by Queensland's tourism competitors in the Asia Pacific region."
"With over 15 years' experience investing in North Queensland, I have recognised the unique suitability of the Cairns region to develop an integrated resort, based upon the Macau model, but presented differently via a design and marketing linkage to North Queensland and the Great Barrier Reef," he added. "Queensland has an opportunity with this proposal to join other countries in our region that are developing large-scale integrated resorts which drive local tourism, employment and associated economic growth. The Aquis proposal is unique, in Asian integrated resort terms, by associating its appeal to the unique natural environment and region it is located in. Aquis will be, by its very design and market position, a high profile project to drive Asian tourism awareness of North Queensland and the Great Barrier Reef. Aquis, the man-made wonder, and the Great Barrier Reef, your incredibly beautiful wonder of the world, will ensure, in perpetuity, Queensland receives more than its fair share of inbound tourism from China. Aquis gives Queensland an opportunity to fend of its southern and regional competitors for the increasingly important Chinese tourism market.
The company behind the project added: "North Queensland is missing the man-made wonder of the world, which is presented in Aquis. Facilities of the like of Aquis Resort at The Great Barrier Reef don't only attract the Chinese mass-market middle-class, but also the big-spending, high-value, ever-expanding Chinese upper-class. The existing operator's exclusive casino licence expired years ago. When its license was granted, it was clearly foreshadowed to them and the broader community that a time would come when more than one casino operator in North Queensland would be appropriate. That time is now. A lack of competition in any industry results in minimal capital investment and innovation for the community's benefit. Aquis does not seek a monopoly or even a duopoly and encourages competition between casino operators, which will lead to more jobs and investment in the industry."