By
Phil
- 20 November 2014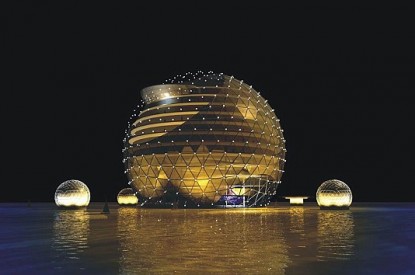 Marie Stephens Properties has presented plans for a A$250m casino hotel to be shaped like a giant pearl and designed to float off the Gold Coast in Australia.
Known as the Sea Pearl Hotel, it is the creation of Professor Jianping Zheng, a man who has designed over 200 theme parks and hotels in China. Sea Pearl will feature 300 hotel rooms, a casino and an underwater restaurant.
Mr Zheng wants the development to become one of Australia's iconic landmarks.
A spokesperson said the aim was for the futuristic designs to 'make a statement as big as the Opera House did for Sydney.'
He hopes that new gaming laws and a raft of new licences in Queensland will allow the development to be built at Gold Coast Integrated Resort and Cruise Ship Terminal in southeastern Queensland.
The professor of Zhejiang University presented his plans at the Australia China Chamber of CEO's G20 lead up event.
It will also feature shopping malls, a sky viewing deck, night light entertainment, a swimming pool, restaurants and an exhibition centre.
A spokesperson for Marie Stephens Properties said talks concerning the project's potential with Queensland Premier Campbell Newman were greeted with a positive response.