By
Phil
- 22 November 2019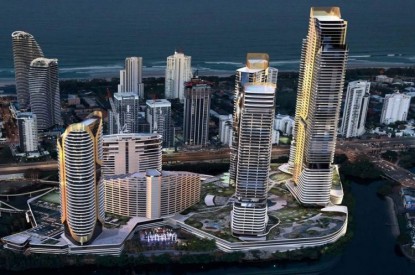 Having had ten expressions of interests from international casino groups, the Queensland Government has suspended its tender process for a resort casino in order to give the city's sole casino group chance to 'put up or shut up.'
Tourism Industry Development Minister Kate Jones said: "We will enter negotiations with Star and they can put up or shut up about their development .The Star has said it wants to make a multi-billion dollar investment into the Gold Coast and a second integrated resort is not needed to attract more international tourists."
"We will suspend the current global tourism hub process to fast track negotiations with The Star so they can put their best food forward and we can assess what their true offer is for the Gold Coast," she added. "We expect that in the next 10 days The Star will come back to government with a clear indication of what their plans will be. They have said they believe they can deliver a global tourism hub on the Gold Coast and that is what we have to assess."
Ms Jones added: "The Star have been very clear if we were to enter an exclusive agreement then they would want an exclusive contract. We have the endorsement from the Gold Coast to move forward with a multi-billion dollar investment in tourism infrastructure and we will sit down with Star first out of respect for their significant investment in the community.
"Throughout this process, the incumbent company here, Star, have said they believe they are best placed to deliver an additional AU$2bn of infrastructure which will be a game changer. We have decided we will approach Star to exclusively deal with them so they can provide detail of their offer. The government will examine this offer and make a decision."
The Star has offered to fund the expansion of the Gold Coast Convention and Exhibition Centre and invest in its existing property in exchange for exclusivity as the city's only casino.
A spokesperson for the Star commented: "If we are given the green light, we can move quickly to commence projects that will deliver thousands of construction and operational jobs and opportunities for Queensland suppliers. If rolled out in full, The Star will be able to showcase more than $9bn worth of tourism investments and infrastructure across South East Queensland.
"The Star Gold Coast masterplan and the Queen's Wharf Brisbane project will together create the opportunity to disperse increased numbers of tourists to other regions of Queensland as well."
The Gold Coast Tourism Hub report, written by the Gold Coast Tourism Advisory panel, said: "The need to attract particularly international visitors to the Gold Coast is strong. Without development of this kind, the Gold Coast is likely to continue to lose tourism market share to its competitors. This is the Panel's primary concern as there is limited evidence to suggest that currently proposed projects meet the need to grow international tourist visitation. With demand for convention and entertainment space increasing, and newer larger facilities accessible in other locations around the country, it is likely the Gold Coast will continue to lose market share, and the economic returns it brings, unless significant change is made."