By
Phil
- 8 April 2016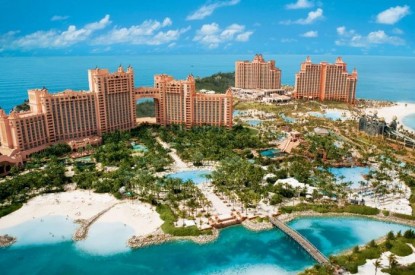 Atlantis, Paradise Island resort in The Bahamas is teaming up with Caesars Entertainment to offer Atlantis' world-class resort experience to members of the gaming industry's premier loyalty program, Caesars Entertainment's Total Rewards.
Caesars will be the only brand of its kind that offers a Las Vegas style island gaming destination as a benefit of its loyalty program, granting their Total Rewards members' access to Atlantis, the largest casino resort in the Caribbean.
"Partnering with the Caesars brand on this initiative allows guests even more access to elite gaming destinations," said Paul Burke, President and Managing Director of Atlantis, Paradise Island. "Our brands have great synergy including similar customer service cultures and clientele. This is an aggressive step towards not only reinforcing our existing customer loyalty, but also towards attracting new customers to experience our unique product offerings."
This unique, ocean-themed destination located in The Bahamas offers over 750 slot machines and 110 table games in a tropical island atmosphere. Caesars customers will be offered access to amenities including dining at signature restaurants boasting celebrity chefs with world-class cuisine, interactions with dolphins and sea lions and a gaming getaway unlike any other destination in the world. All Total Rewards members who are Platinum, Diamond or Seven Stars will be able to take advantage of this amazing offering.
"With the launch of this exciting partnership, Total Rewards is continuing its evolution as the industry's leading hospitality and gaming loyalty program," saidMichael Marino, Senior Vice President of Loyalty & Digital at Caesars Entertainment. "Total Rewards is now the only loyalty program of its kind offering our members access to this premier island resort, which includes access to select accommodations, signature dining experiences and the opportunity to play in the Caribbean's largest casino."
The Total Rewards loyalty program allows members to earn tiered status and redeem reward credits toward a variety of offerings including stays at premier properties such as Caesars Palace, Las Vegas and the one-of-a-kind Nobu Hotel,Las Vegas in addition to access to nearly 40 other properties spanning fromCalifornia to New Jersey. Total Rewards members can enjoy some of the world's premier dining destinations that are curated by celebrity chefs such as Gordon Ramsay and Bobby Flay, as well as access to world-renowned nightlife venues like Drai's beachclub and nightclub. For qualifying loyalty program members who want to see a live show, seats to shows featuring some of the top names in entertainment such as Celine Dion, Elton John, Britney Spears and Jennifer Lopez are just a phone call away.
"The timing of this collaboration is aligned with the unveiling of new enhancements and additions to the Atlantis casino experience, beginning with the latest array of new slot machines and several exciting table games and bonus options," said Rosalind Krause, Chief Casino Marketing Officer of Atlantis, Paradise Island. "Atlantis Casino also recently introduced an entirely new ultra-gaming experience, Salon Privé. Salon Privé offers the latest in high-limit slot machines and a private salon for those exclusive table game customers. Guests can play their favorite table game in private while overlooking the magical water of blue lagoon. Players are in a secluded setting and are nestled amongst an aquarium filled with many exotic and rare fish for your viewing pleasure."
Atlantis has welcomed 2016 with exciting new projects, which will continue throughout the year. From new and updated dining venues to refreshed guest accommodations, Atlantis anticipates more property upgrades in the future.