By
Phil
- 11 December 2017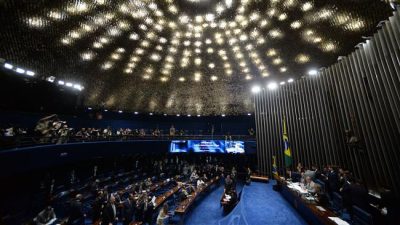 A request has been put forward to postpone voting on the gaming bill in the House Committee on Constitution, Justice and Citizenship (CCJ) leading to a postponement of the vote.
Benedito de Lira the rapporteur of the latest version of the gaming bill presented a new report based on a series of proposed amendments and has asked for a new collective hearing for gaming bill PLS 186/2016.
The Senator presented a report in favour of the approval of bill PLS 186/2016 to the Committee on Constitution, Justice and Citizenship (CCJ) in the Senate on November 6th. However, his report outlined a significant number of changes when it comes to how gaming will be regulated in the future. It was believed that members of the committee could have voted on the new version of the law at their next meeting meaning that it could have then gone before the full house for a vote. However, the senator presented an updated opinion on Wednesday (December 6th) due to the scope of the newly proposed amendments.
The text of Benedito de Lira's revised gaming law legalises for over 18 years, gambling, bingo, video bingo, sports and non-sports betting as well as online casinos and integrated casino leisure complexes.
However, the new version of the bill proposes a significant number of changes when it comes to anti money laundering measures. These would ensure that gaming companies would be obligated to adhere to the Money Laundering Act, obliging them to register clients and report operations to the Council for Financial Activities Control in the Ministry of Finance (COAFI). COAFI was created in 1998 for the purpose of regulating, applying administrative sanctions, receiving pertinent information, examining and identifying suspicious occurrences of illicit activities related to money laundering. The new amendments also determine the adoption of measures by the Central Bank, which would prohibit the use of payment methods, such as credit cards administered by an unaccredited company when it comes to online gaming.
This new delay means that the bill has been delayed in the committee stage for almost a year. In mid December 2016, the Senate first returned the then new version of PLS 186/2014 for further analysis to the CCJ. This was after Senator Magno Malta filed an application asking the CCJ for a more in-depth debate on the matter. The request received 44 votes in favour and 19 against. As a result, the proposal was withdrawn from the Senate's immediate agenda. Senator Benedito de Lira was first named as rapporteur for the new report on gambling in March 2017 by President of the CCJ Senator Edson Lobão after being charged with providing further details regarding revised gaming law.