By
Phil
- 20 November 2017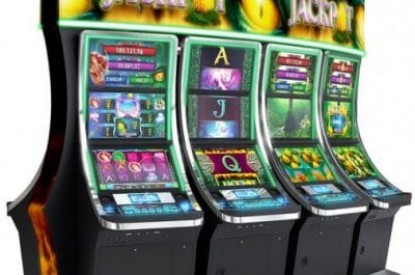 APEX Gaming will be showing Dragon Egg jackpot island at BEGE in Sofia from November 22 to 23.
The APEX team is very proud of the success of Dragon Egg with the number of installations constantly increasing. Today APEX offers three separate versions of the Dragon Egg: Dragon Egg Big Island, Dragon Egg Small Island with 43" curved monitors and DRAGON EGG small island with 3 x 27" monitors.
Dragon Egg is played over the entire slots screens as well as the large overhead display – taking gaming to the next level. The design and excellent sound heighten the game play even more. The 16 different jackpot levels are recognised for increasing player suspense and entertainment.
The Dragon Egg Big Island consists of 8 Pinnacle Premium SL slot machines (two banks of four) that each has 3 x 27" monitors. The Dragon Egg Small Island with 43" curved monitors has four Pinnacle Premium Curved slots each equipped with the aforementioned large curved screen. The Dragon Egg small island with 3 x 27" monitors has the same circular design – but consists of the four Pinnacle Premium SL slot machines.
Further members of the Pinnacle slot machine family will adorn the stand, including the Pinnacle VIP Premium Lounge.
Another highlight will be the focus on the award-winning iDROPe – the perfect solution to enable tickets and cash to be accepted directly at live gaming tables. Dealers can now accept tickets and/or bills directly at the gaming table and insert them into the iDROPe. Cashing out is simple as the chip value is paid back in the form of a ticket. The iDROPe is simple to integrate into the casino management system and provides detailed real-time information on the iDROPe contents.
"We are really looking forward to the BEGE and making sure that our valued customers can have full access to all our products and solutions," Kubilay Özer, Global Sales Director at APEX gaming.