By
Phil
- 8 April 2015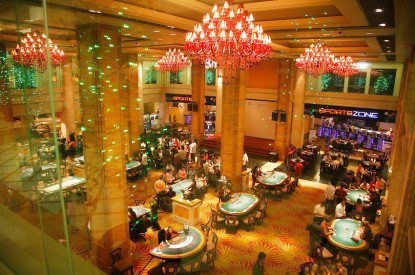 Cambodia's National Assembly is hoping to approve a new casino bill before the end of 2015, which should see taxation double whilst internationalising the sector's standards.
The amendments should also benefit the sector by improving Cambodia's appeal to the much sought after Chinese gambler.
Ros Phearun, Deputy Director of Finance for the Ministry of Economy and Finance, believes the improved casino sector will double its current tax payments. Cambodia currently has 59 legal casinos in operation, although another three in Takeo province will be open by Khmer New Year in mid-April.
Mr. Phearun said casinos in Cambodia were increasing in number but not in quality. Taxation came in at just US$25m in 2014 but even then it showed a year-on-year improvement of 15 per cent. The current tax system sees casino owners paying a monthly sum based on location and size rather than on what revenue they are generating.
Once the ministry has finalised the bill, it will need to be approved by the Council of Ministers and then the National Assembly.
In welcoming the proposed changes, Son Chhay, Deputy Chairman of the National Assembly's banking and finance commission, predicted it would only take three months to be approved. He warned though that the government should only approve new gaming licenses once it had been passed.
"We have been waiting for years to have a law, which complies with international standards to manage the industry. We welcome it and we do appreciate the minister of the Ministry of Economy and Finance for the commitment shown with us during the meeting with the committee in December last year. The government will try to push it as they need more money to fill up their recent increase of civil servants salary."
Whilst Macau's VIP sector has been hit particularly hard in recent times, Cambodia's Phnom Penh-based NagaWorld saw its GGR surge by 48 per cent year-on-year, for the first quarter of 2015. The two could even go hand in hand. Revenues at NagaWorld hit $113.5m in the first quarter, up from the $76.8m for the first quarter of 2014. The increase was mainly due to improvements in the VIP sector with high-roller revenue growing by a huge 101 per cent to $65.5m, certainly a large chunk of that was wrestled away from Macau due to China's crackdown on corruption and austerity. Revenues for the mass market at NagaWorld increased by per cent to $47.9m in the first quarter. Mass table buy-ins saw a year-on-year growth of 12 per cent, reaching US$129.9m whilst GGR from electronic gaming machines amounted to US$289.6m, representing an increase of six per cent from the US$273.2m from the same quarter in 2013.
The quarter was most notable though for a shift in the dominant sector with mass market earnings coming in at $11.7m more than VIP revenues in the first quarter of 2013. Macau is seen as being pivotal to that switch.
In February, Nagacorp reported its 2014 revenue had risen 17 per cent to $381.4m although net profit fell by three per cent.
NagaWorld has publicised its stance on the Chinese player, stating: "The relatively lower net profit growth compared to GGR growth is a result of higher incentives given to junket operators to promote NagaWorld to the rest of Asia, including China, as well as higher staff costs to improve service quality and staff retention. The downturn in the Macau gaming sector presents opportunities for the group to further penetrate into the Chinese gaming market for both the VIP and Mass Market segments. With NagaWorld's low-cost structure, it will be able to continue to offer better commercial terms to junket operators and agents. In the coming months, the group plans to sign up more Macau-based junket operators, seeking to diversify their operations to other parts of Asia. For the Mass Market segment, the appeal of Cambodia as a travel destination for Chinese tourists is evident from the continued strong growth in Chinese visitation, which the group will be looking to leverage. The expected completion of the NagaCity Walk in the third quarter of 2015 and its subsequent opening in early 2016 will enhance the retail experience available to the patrons and further strengthen NagaWorld's overall appeal to both the Mass Market and VIP Market."