By
Phil
- 31 January 2014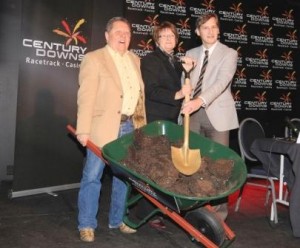 Century Casinos' Century Downs Racetrack and Casino project has received master site development plan approval and the development permit from Rocky View County.
With the development permit in place, construction at the site may start at any time going forward. Stripping and grading is planned to begin within the next few weeks, weather permitting.
The project has already received the racing license from Horse Racing Alberta and also the Alberta Gaming and Liquor Commission has approved the project for development. Per regulation inAlberta, the final casino license will be issued shortly before opening upon final inspection by the AGLC.
Century Downs Racetrack and Casino is located less than one mile north of the city limits of Calgary and 4.5 miles from the Calgary International Airport. The location is ideally positioned exiting off the Queen Elizabeth II Highway, which is the main corridor between Calgary and Edmonton and one of the most heavily used highways in Western Canada, next to the CrossIron Mills shopping mall, a major regional attraction, and would capture both the north and the northwest Calgary markets, which do not currently have a casino.
Commenting on the news, the company's Co CEOs Erwin Haitzmann and Peter Hoetzinger remarked: "We are excited about the go-ahead received from Rocky View County and are grateful for the
tremendous support the project continues to receive from local and provincial communities and regulatory authorities." Referring to the fourth quarter results to-be-announced on March 31, they continued: "Regional gaming revenues across North America suffered at the end of 2013 in virtually every market, as did our operations. Together with higher corporate expenses associated with new project developments, results for the fourth quarter 2013 will be behind expectations."