By
Phil
- 8 August 2013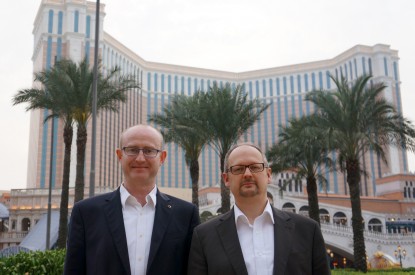 CCTV expert Dallmeier has founded its own subsidiary: Dallmeier International, a joint venture between Dallmeier in Germany and its Australian business partner C.R. Kennedy, in order to satisfy the many specifications by its customers in Macau.
The Macau success story for German CCTV expert Dallmeier began in 2003, when with an international tender the first foreign casino in Macau, the Las Vegas Sands, was looking for a surveillance system.
Konrad Hechtbauer, Director Project & Applications at Dallmeier, looks back: "Dallmeier established itself in Macau about 10 years ago, with the first digital video solution and about 1200 channels."
But this first order from the Sands was only the beginning: just a year after it opened, the casino doubled its capacity – and of course this also meant that the surveillance system had to be expanded correspondingly. As the boom in Macau continued unabated, so the Sands Group grew too, and over time it acquired several more properties on the main island of Macau as well as on the Cotai Strip. By this time, the Sands, the Venetian and the surrounding hotel complexes had combined to form a single interconnected network. A staggering 15,000 cameras here are controlled from a main control centre.
Many more projects, such as the City of Dreams, have followed over the years. And the end of the development is nowhere in sight yet: not just because new casino and hotel resorts are being built all the time, the existing casinos are constantly expanding their video systems.
Konrad Hechtbauer explained: "The systems are becoming bigger and bigger, and more and more complex. They now also incorporate a multitude of interface connections, such as card readers, slot machines or POS systems. The data from the peripheral systems is linked to the video images. The user is alerted to sensitive areas automatically by complex mathematical calculations, so the system functions proactively. Unusual situations at the gaming tables are detected and reported by means of intelligent video analysis. Our many years of experience in Macao are incorporated systematically in our development programme, and as a result Dallmeier is constantly able to present new innovations."
Stephen Beard, Managing Director Dallmeier International, added: "I remember the first discussions about our joint venture which really stemmed from the fact that C.R. Kennedy, our company in Australia, was instrumental in the first digital system ever in a casino surveillance system. The job went so well that Dallmeier and C.R. Kennedy decided to join a joint venture in Hong Kong and later into Macau to provide Dallmeier systems to the new Western casinos that were going up rapidly."
From consulting and planning for the system to commissioning and including after sales service: Dallmeier attaches great importance to supporting its customers as a partner for the long term.
Craig Graham, General Manager Asia Region at Dallmeier International, explains: "In our office we have eight staff, seven engineers, we do repairing within the office and also at clients' sites, we have our warehouse and store room here servicing our major clients. In total we service over 20,000 channels across Macau and also in the region."
In a purposed built and equipped demo- and showroom, the latest developments can be tested and demonstrated to customers. One of the most radical new innovations is the patented Panomera camera technology, which offers hitherto inconceivable resolution and image quality thanks to a completely new lens and sensor concept – in real time and at up to 30fps.
From the office in Macau, all casinos can be reached in 20 minutes or less, so professional Dallmeier personnel can be on site almost immediately to assist with emergencies, to provide support and for all ongoing expansions.
Craig Graham recalls the beginning of the office: "I remember when we first opened the office Stephen said that the opposition told us that we would never ever get any business within Macau. And here we are ten years later with one of the largest presences within the CCTV industry in Macau."