By
Phil
- 11 November 2013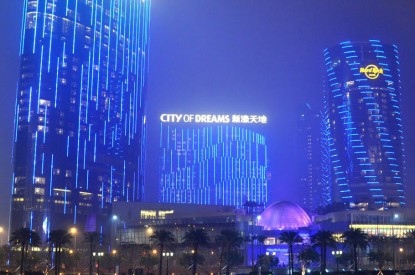 Revenue for Melco Crown Entertainment surged by 24 per cent in the third quarter of 2013, coming in at US$1,252.7m up from US$1,010.8m for the comparable period in 2012.
The increase in net revenue was primarily attributable to improved group-wide gaming performance, particularly in the mass market table games segment.
A 39 per cent year-over-year increase in Adjusted EBITDA was driven by significant growth in the mass market table games segment at City of Dreams, as well as improved group-wide rolling chip volume and a committed approach to controlling costs, partially offset by a lower rolling chip win rate.
Lawrence Ho, Co-Chairman and Chief Executive Officer of Melco Crown Entertainment, said: "Our committed focus on the mass market segments, particularly at the higher end of the market where we have a significant competitive advantage, continues to drive our Company's overall profitability and outperformance in the mass market table games segment. Our premium mass offerings continue to lead the way in Macau, with City of Dreams further extending its number one position in this increasingly important segment, as is evident in the property's leading mass market table yields."
Net revenue at City of Dreams was US$958.3m compared to US$747.4m in the third quarter of 2012, representing an increase of 46 per cent compared to US$204m in the comparable period of 2012. Altira Macau generated US$242.4m compared to US$215.7m in the third quarter of 2012 whilst Mocha Clubs totalled US$38.6m in the third quarter of 2013, up nine per cent. The group is ploughing ahead with new projects in Macau and the Philippines.
Mr. Ho added: "Studio City remains on budget and on track to open in mid-2015 with clear progress being made on the main superstructure following the successful completion of the foundation and piling work. This cinematically-themed integrated resort located in Cotai represents a powerful and complementary addition to our current portfolio of operating assets in Macau, offering a unique array of entertainment and interactive attractions which will cater to a broad range of customers in Macau and help drive diversification of the Macau economy.
"We recently announced City of Dreams Manila as the brand of our integrated casino resort in the Philippines which, together with an ultra-luxurious Crown Towers branded hotel, demonstrates our commitment and confidence in this exciting leisure and entertainment market. We believe our experience in developing and operating integrated resorts in Asia, our unique competitive position in the VIP segments and experience in delivering world-class entertainment, together with our strong local partner, means we are in a unique position to capitalise on the economic growth in the Philippines and the region, and support the Philippine Government's leisure and tourism objectives."
City of Dreams Manila is Melco Crown Entertainment's first foray outside of Macau, representing the next step in the company's mission of becoming the leading gaming and entertainment company in the region. "We continue to investigate opportunities in other key Asian markets where they meet our strict approach to the deployment of capital, including Japan," Mr. Ho explained. "Clear progress is being made on the various and wide-ranging infrastructure programs both in Macau and regionally, which continue to support visitation and the mass market segments in general. The Macau market has delivered impressive growth year-to-date across all gaming segments, showing the market's unique position to cater to the expanding Asian middle class and, in particular, the inevitable shift to a consumer-led economy in China."