By
Phil
- 25 January 2018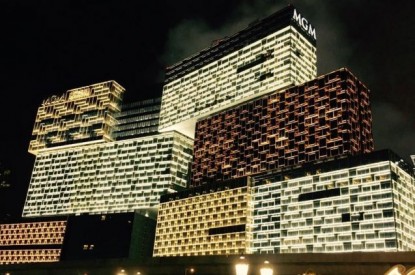 MGM Cotai, MGM Resorts new Macau casino, has been given 125 new-to-market gaming tables, to go with its original allocation of 100 tables.
The operator will be allowed a further 25 tables on January 1 2019 but will also transfer 77 tables to Cotai from its MGM Macau casino. The property was due to open on Monday January 29 but is facing a short delay. MGM said it would hold a public opening 'within the month of February' explaining that it was waiting on the granting of some licenses to open the casino.
The allocation is fewer than the 150 given to other recent openings such as Wynn Palace and the Parisian, both of which opened with 100 new tables in 2016 with 25 more allocated on 1 January 2017 and another 25 on 1 January 2018 for a total of 2018.
Union gaming's Grant Govertson said: "[The timing of MGM's Macau gaming license in 2020] presents a conflict for the government in terms of allocating a final batch of 25 tables right on top of the license expiration. We think that MGM Cotai will receive confirmation of another 25 tables once the license situation is resolved, which will bring its allocation to parity with the other operators. We expect SJM to face a similar dynamic upon opening of its Grand Lisboa Palace.
"In regards to MGM Cotai, we believe that excess table capacity harvested from MGM Macau on the peninsula, in addition to the new tables being allocated by the government, will be enough to achieve current revenue and cash flow forecasts for the company," he added.
"Under the assumption that SJM also gets an initial batch of 100 tables for Grand Lisboa Palace in 2019, and that the government allocates 'catch-up' tables to MGM and SJM after the license situation is finalized, this would leave 482 tables in the government's inventory," he said.
"We think the government could also allocate some number of tables to Melco after opening its Morpheus project at City of Dreams this summer, and to Galaxy as it brings online parts of its Phase 3 and 4 developments. Sands China's Londoner project could also be eligible for a table allocation.
"However, given that there could be a fair amount of tables leftover even after some modest allocations to the above projects, this is likely to fuel continued speculation of the so-called seventh gaming concession that could be part of the rebid process. Further, we think it is more likely than not that the government keeps the table cap in place post 2022 and maintains a similar growth rate in allowable new tables."