By
Phil
- 5 June 2015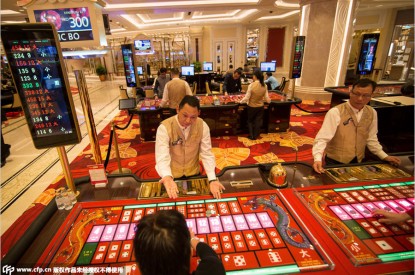 Galaxy Entertainment Group's Galaxy Macau Phase II resort and Broadway Macau, Macau's first major resort since 2012, has opened with 150 gaming tables from TCS John Huxley.
TCS John Huxley also supplied a custom designed LED Money Wheel with a Double Money Wheel Blaze table, Double Dragon Sicbo Blaze tables with e-FX Elite 2 number displays, Baccarat Blaze and Omni Baccarat Scoreboard displays. In addition, a maintenance agreement to support the products has been signed for one year.
In addition, Broadway Macau saw 35 Baccarat displays and three Double Sicbo Blaze tables added to the gaming floor for the opening.
This was the first installation in Macau of the latest Blaze suite of products, which feature unique LED surface technology incorporating a sophisticated illumination system. The slim-line, energy efficient LED matrix sits below the surface of the gaming table, providing attraction sequences, number highlighting and dynamic light displays that are fully customisable and integrate with e-FX displays.
Rebecca Kingswell, TCS John Huxley Managing Director APAC, said: "We are extremely proud to be selected to supply such a large number of gaming tables and products for these two prestigious openings. The Blaze suite of tables offer a particularly exciting and eye-catching feature to the gaming floor as well as bringing added security benefits."