By
Phil
- 12 August 2016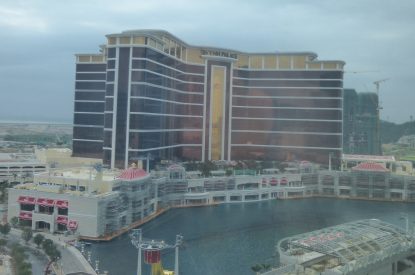 Wynn Palace has been allocated just 100 news tables, down from the 400 it asked for when it opens in Macau on August 22.
Wynn confirmed it would transfer 250 tables from its current resort in Macau to the new one to boost the property but all the tables will have to operate at a mass gaming level. Macau's Secretary for Economy and Finance Lionel Leong said that 50 more will be allocated over the next two years. The $4.2bn property will be able to operate 1,145 slot machines.
Wynn China stated it was 'satisfied' with the decision despite it being far fewer than the 250 tables Galaxy Entertainment and Melco Crown got for their new Macau projects last year.
Union Gaming analyst Grant Govertsen said that even though operators can transfer tables from other properties to boost the allocation, the government's 'mass-only' stance shows it is getting tough on the VIP sector.
"It does raise concerns on how an operator can ultimately get to where they need to be on a longer-term basis with only 150 tables on a more than $4bn investment," he explained. "Following 2Q16 results we performed an analysis that suggests Wynn Macau is capable of hitting our above-consensus estimates for the next two years and the table allocation today does not change our view on this. We are particularly concerned on the out years when we think the company will need more than the expected 670 tables allocation implies (520 existing tables + 150 new tables). While we do think it is possible that the company could apply for more tables post-2018, we are more comfortable being on the sidelines for the time being and until we get more clarity on how future table allocations will be dealt with (for all operators). As such, we are downgrading shares of Wynn Macau to Hold and are lowering our PT to HKD13."
It adds further uncertainty for other casinos due to open in Macau. MGM Cotai has already confirmed that it will be a mass gaming only property when it debuts in the second quarter of 2017. Sands' Parisian casino is due to open on September 13 with what it said would be a minority of its tables devoted to VIPs. Neither yet knows what numbers they will be allocated for new tables.