By
Phil
- 21 August 2013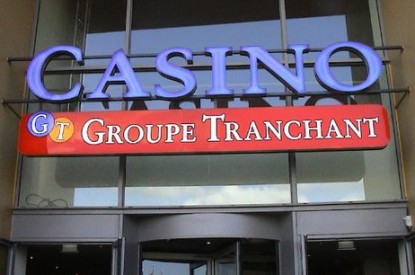 FutureLogic's GEN2 Universal printer has been selected by Groupe Partouche and Groupe Tranchant  along with several leading independent casinos, totalling more than 70 casino sites, as the preferred thermal ticket printer for the roll-out of Ticket-In-Ticket-Out (TITO) across France.
After a careful evaluation process, Groupe Partouche, the largest casino operator in France with 42 casinos, selected the GEN2 Universal printer for their TITO roll-out. Another of the largest casino operators and owners in France, Groupe Tranchant, has also specified the GEN2 Universal printer across all its 16 casinos. In addition, several leading independent casinos supported the decision to go with FutureLogic, specifying the GEN2 Universal as their printer of choice due to its unmatched performance and reliability.
"We are delighted with the selection of the GEN2 Universal printers by such a technically savvy group of operators," said Anette Jauch, FutureLogic's Sales and Marketing Manager EMEA. "The French operators recognize FutureLogic's commitment to delivering best-in-class TITO printers as well as providing an outstanding service to our customers. Looking ahead, as operators look beyond ticket printing, the GEN2 Universal offers future-proof connectivity to FutureLogic's PromoNet promotional couponing solution enabling operators to reward high value new and anonymous players."
"With some of the highest average net wins per day of any market anywhere in the world, France is an incredibly competitive and complex market. French casino operators are constantly evaluating new technologies and innovations to remain competitive, and so we have been working hard to help them realize the operational benefits and revenue uplift that comes with the introduction of TITO", explained Laurent Gaubout, owner of LGS Gaming and FutureLogic's agent for France. "France is a very important gaming market for Europe and for FutureLogic, and the GEN2 Universal printer is a perfect fit for the growing French market and the increasing interest in both ticket printing and promotional couponing."
Ready for promotional couponing, the GEN2 Universal printer can provide operators with separate and secure processing environments for both TITO and promotional couponing. Moreover, equipped with a 50 per cent larger standard ticket capacity, the GEN2 Universal printer can also save operators up to 20 refills or $200 (€150) per printer annually. Further reducing costs, the unit eliminates paper waste by consuming the ticket stack down to the last ticket. The GEN2 Universal printer is server-based ready supports both SPC (IGT) and GDS protocols and can be configured to communicate with multiple hosts simultaneously, such as RS-232 or Netplex, and USB protocols.